By Sam Eyoboka
Elder Sunday Oibe hails from Benue State and has been involved in Christian Association of Nigeria, CAN, politics since 1987. He was Director of National Issues in the last dispensation at CAN. He describes the immediate past CAN President, Pastor Ayo Oritsejafor, as a man that has passion for the country and the people. According to him, Oritsejafor is the only Nigerian Church leader who appeared before the United States Congress and told Americans about their double standards and hypocrisy on the Boko Haram issue.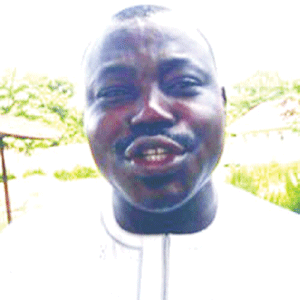 I need you to tell Nigerians about the orgy of killings in your state….
Tension is still high. We heard about our Catholic brethren who were killed, and then CAN urging Christians to stage protest. I was telling some of them, is it not what Pastor Ayo Oritsejafor was saying then and you were saying He was compromising? I was called and asked about my reaction to the CAN call for a protest, asking if we were part of it. I said every good Nigerian, including our Muslim friends, were already protesting against the inept nature of this government because a responsible government is supposed to protect the lives of its citizens.
The only dividend of democracy we get under President Buhari's administration is that there are killings everywhere across the country. Every reasonable Nigerian is already protesting. It is not just the one CAN called because there's nobody who is satisfied with what is going on in this country. These are the same people who were calling for the head of President Goodluck Jonathan…but, today, look at what is happening? Some of us are now so pissed off that we don't even want to read newspapers anymore. The only thing that has become news now is the number of people killed as if life has no meaning again in this country. We warned Nigerians, especially South-Westerners, look at where we are now?
We recall that when Papa Ayo Oritsejafor called for self-defence, many Nigerians, including Christians, wanted his head…. 
(Cuts in) That's why I'm saying Nigerians should apologize to him. This man used the lens of God to see the future and it is true that we have the right to self-defence; and people were calling for his head, but, today, everybody is talking about self-defence. Nigeria is a very funny country. Nigeria should apologize to Papa Ayo Oritsejafor because this is a man who saw tomorrow with the lens of Holy Spirit and knew that there's an evil coming and that, unless everybody rose up to condemn this evil, it was going to consume all of us. And he said Nigerians should defend themselves, but people were calling for his head but, today, the Emir of Kano is saying the same thing, the Sultan of Sokoto is saying the same thing, Atiku Abubakar is saying the same thing. Everybody is talking about self-defence as if something changed or it is in our statute.
What is the situation like now in Benue?
Nobody is sleeping with his eyes closed, there's tension everywhere because you don't know the next village gunmen are going to attack. It has become a daily affair; that is the meal that is served to the people of Benue every day even for voting in this government. The only dividend of democracy the Benue people are getting is massacre. Now rain has started coming but people cannot go to farm because of the fear of Fulani herdsmen. And what it portends is that there will be food crisis in the land very soon. The government of Benue is running helter-skelter to see that it doesn't affect us because Benue is the food basket of the nation. And if you ask my opinion about the protest that CAN called for, I will ask all Christian political appointees from the areas affected by herdsmen attacks to resign from this government before they kill everybody; who are they coming to live with after they leave office? The question people ask is, why are there no similar killings in Katsina, Kano or Sokoto?
Up till now, Dapchi girl Leah Sharibu remains in captivity. Is there anything you want to say about that?
If this government wants to prove that it is here to serve the people, they will do everything; they spent so much money to fight Boko Haram, they should spend everything they have to free that girl because as long as she remains in the hands of the captors, it is a slap on the integrity of this government. How can you carry over 100 schoolgirls and because one said she's not going to renounce her faith, she is held back and a government which says it wants to be fair to everybody isn't doing anything? The situation leaves much to be desired. So we are appealing to President Muhammadu Buhari to do everything within his power to make sure that this girl is brought back safe and unhurt to her parents. And until that is done, the question of this government fighting corruption, this government is making sure that there is security in the land is going to just be a mirage, a story because it's going to be a mockery of democracy. I'm so pained that this girl is still held by terrorists. Where is our security intelligence? Are we saying our security has collapsed to the point that we don't have intelligence to be able to trace the whereabouts of this girl?
God is not happy with this country because of the innocent blood that is being shed every day; the blood of the thousands shed is daily crying to God. Watch the history of the world; any nation that takes innocent blood, God is not happy with such a nation. Everyday, lives are wasted in Zamfara, Southern Kaduna, Taraba. Benue own is a meal that is served to people as their three square meals. And the question is, why Benue or Taraba? Taraba is the only state in the North-East that is governed by a Christian. Benue and Plateau are the only two states in the entire Middle Belt that are governed by Christians. So are you saying they want to make the states ungovernable for Christian governors? So that their people will say they are not leading well?
Or is it another way of trying to make sure that they impoverish the Christian states? This government has one million and one questions to answer. And anybody in this government pretending to be comfortable, the same thing that Mordecai told Esther in the Bible, we are telling them. Mordecai told Esther that 'God brought you to that position at a time like this and if you keep quiet, help will come from somewhere else but you and your father's house are not going to be safe'. So for the fact that they are in this government does not mean it is going to be safe. So if they refuse to speak, help will come from somewhere else but they should know that both themselves and their households are not safe because the God of heaven is a God who fights injustice. This is an injustice that is being meted to us because we are Christians and God is not going to allow you to go like that.
What do you say about service chiefs?
The service chiefs have outlived their usefulness. Like the National Assembly is calling and everybody is talking, they are trading on the lives of innocent people. These people should find their way out. Why is it difficult to replace them? If they have no other ideas to address the issue of insecurity, they should give way for vibrant and intelligent people to man the leadership of the security apparatus of this country because millions is spent every day and yet the story of insecurity is on the increase. Every day you go on a journey, you pray whether you will be able to come back alive. Kidnapping on the highways, Fulani herdsmen killing people in the farms and villages…the dimension in which these herdsmen are doing it that is so worrisome is the fact that they will dislodge the natives and occupy their territory and security agents seem not to be doing anything about it. That is the most worrisome of the situation.
And when they deploy security people to any ravaged community place, what do they do? It's the natives they arrest. The other day the IG gave order that people should surrender their weapons; the question is: is the IG directing the Fulani herdsmen to surrender their AK47s? Why are they not going after the herdsmen to collect their weapons and instead they are disturbing people with dane guns, cutlasses and knives? Or is this another way of saying that Nigeria is legalizing the carrying of arms? If that's what they want, they should make a law and let all of us go looking for arms because the rate at which innocent men, women and children are being killed in this country is frustrating. It has never happened anywhere in the history of this country.