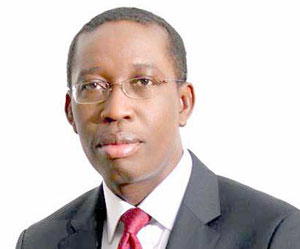 Okowa
By Evelyn Usman
Reactions have begun to trail recent allegation by a governorship aspirant on the platform of the All Progressive Congress, APC in Delta state, Dr Cairo Ojuogboh, that the North China Construction Nigeria Limited, which handled the New Central Secretariat project by the Delta state government, was not owned by the Chinese government as earlier posited by the latter.
Ojuogboh, in an interview with Vanguard had stated that the company was owned by a Nigerian banker, backing his assertion with findings which according to him, was made at the Corporate Affairs Commission , CAC.
But a politician in Delta state, Mr Apkobure Onorie, described Ojuogboh claims as false and a calculated attempt to politically join issues with the company.
Onorie who stated emphatically that the company was China owned, explained that the Delta state government engaged it as major contractor of the New Central Secretariat in Asaba,Delta state capital, based on what he described as the high-profile status of the North China Construction Group Co. Ltd and its subsidiary; North China Construction Nigeria.
Besides, checks carried round by an independent body , at the CAC, he said, showed that the Office of the Consulate of the People's Republic of China in Lagos had on March 12, 2013 written to the Director General of Corporate Affairs Commission stating clearly that "North China Construction Group Co. Ltd is an 'AAA' creditable enterprise with high qualification in building. North China Construction Group Co. Ltd is a legal Chinese corporation which deals on businesses related to construction."
He buttressed his assertion with the letter to the Director , CAC, which stated that " The Economic and Commercial Office of the Consulate General of the People's Republic of China confirms our agreement on its establishment of a company in Nigeria named North China Construction Nigeria Limited and North China Construction Group Co. Ltd has got the approval of the People's Republic of China for its investment in Nigeria including the name of the company to be set up."
Findings he stated, , also showed that the North China Construction Group Co. Ltd has its home office at Guangsha Road, Diaxing District, Beijing China.
Others who spoke on the condition of anonymity, said that allegation by Ojuogboh that the construction firm had nothing to do with China, lacked factual ingredients.
Sources said : " From all indication, it is obvious that checks were not conducted to ascertain the true position of things, because investigation at the CAC has shown that North China Construction Nigeria Limited has a six-member Board of Directors, made up of five Chinese and a Nigerian. Identities of the Chinese Directors are in the incorporation documents of the company, at the Corporate Affairs Commission.
"Claim that the North China Construction Nigeria Limited has no business with government of China, is a clear indication of an un-researched, false and defamatory statement against Governor Ifeanyi Okowa, who is making serious developmental strides in Delta State. The New Central Secretariat is a well thought out project that will eliminate the current huge cost incurred by government on office accommodation for Ministries, Departments and agencies that are scattered all over Asaba. Having almost all government departments in one place will encourage innovation and knowledge sharing. It will also reduce the time of commuting from one ministry to another, as well as the concomitant waste of valuable manpower hours.
"With such development in place , youths who are currently working with Chinese expatriates in the project, are likely to own a personal or collective construction firm in future. Rather than cast aspersion, a genuine friend of Delta state will rather advise the Governor to conduct head count of the civil servants and other officials, which the secretariat will serve as offices, and determine whether there is need to add more floors because the foundation of the building is the first of its kind of engineering master piece ever seen in Delta state. For such spurious and unsubstantiated allegation to have come from somebody who has indicated interest in becoming the next governor of the state, shows that it is an attempt to rubbish Okowa who may want to seek a re-election in 2019. Nigerians should begin to demand a level of decorum and seriousness from people who aspire exalted positions in the public sector. It is too risky to leave our public offices to careless people who do not care about the reputation of others."
"Okowa,is a prudent and highly civilized governor who cannot involve the state government in any contractual obligation with a company which foundation or identity is obscure. Dr. Ojuogboh's allegation is therefore, regarded as "tissues of lies and unbecoming of a man seeking an exalted office of a state chief executive, who instead, should choose a path of honour by appreciating the good foundation Governor Okowa has laid.
" Governor Okowa, has however, been advised not to join issues with those whose stock in trade is mudslinging. Rather, he should remain focused in his administration's developmental initiative, in line with his SMART agenda."