By Gabriel Olawale
PZ Wilmar, maker of Mamador premium cooking oil brand, has reward 372 lucky winners in the first draw of its on-going national consumer promotion, tagged 'Mamador Kitchen Makeover'.
The prizes won includes, Sets of customized Cooking Pots, Deep Fryers, Standing Cookers, Double Door Refrigerators, Chest Freezers, Gift Bags with one lucky consumer, Monsurat Hammed won the first ultimate prize of a full kitchen Makeover.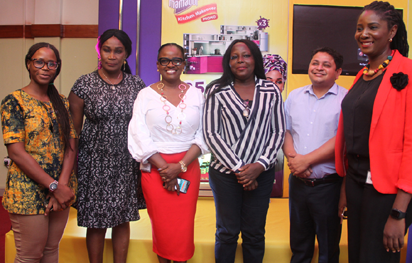 Speaking during the prize presentation in Lagos, Category Marketing Manager, Chioma Mbanugo said the exercise was just the first of three draws that had been planned for the promo and a lot more winners are expected emerge.
"We believe that this first draw will go a long way in showing consumers that we mean business when we say we  want to enhance their cooking experience, but most importantly that the promo it is a fair and credible one.
Chioma Mbanugo, who took the audience through the draw process, said that consumers who had accumulated up to 6 stars before the draw date and had received a confirmation via text would be eligible to win prizes in the first E-raffle draw that was being held.
As we have demonstrated today, all participants in the Mamador Kitchen Makeover promo have equal chances of winning, and they can win over and over again. Those who don't yet have up to 6 stars need to keep buying so as to qualify for the next draw. Congratulations to all our lucky winners today. She said.
On how the winners can redeem their prizes, she said provisions have been made for winners to redeem their prizes at designated locations close to them across the nation.
"To enter into the Mamador Kitchen Makeover promo, consumers are required to buy the Mamador 2.5L or 3.5L cooking oil specially marked with promotion message/label, which includes a scratch panel and follow the instructions stated on the label. Consumers would need to accumulate not less than 6 stars to qualify for the monthly E-raffle draws where winners will emerge including the grand prize winners of the Kitchen Makeovers. The promotion is open to all consumers across the country and runs from now till the end of June 2018.
The draw event was hosted by charming Nollywood actress, Ufuoma McDermott and was witnessed by representatives of the National Consumer Council (CPC), The Lagos State Lotteries Board (LSLB), The National Lottery Regulatory Commission (NLRC), press and staff of PZ Wilmar.