By Onozure Dania
IT was a day of honour for the former Dean of the Faculty of Law, University of Lagos, UNILAG, and ex- Director, Nigerian Institute of Advanced Legal Studies, NIALS, the late Professor Michael Ajomo, when former Judge of International Court of Justice, ICJ, Prince Bola Ajibola narrated how his job as the Attorney- General of the Federation and Minister of Justice, was made easy by the ex-director of NIALS.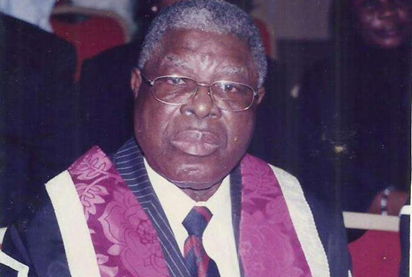 Prince Ajibola, who gave resounding tributes in honour of Prof. Ajomo during a special session organised by NIALS in conjunction with the Faculty of Law, UNILAG, said the late Ajomo "was a quintessential legal juggernaut, from whose legal knowledge many benefited in his life time."
Professor Michael Ayodele Ajomo who was a Senior Advocate of Nigeria, held sway as the director of the Nigerian Institute of Advanced Legal Studies (1988-1995) and Head of the Department of Jurisprudence and International Law, UNILAG.
Other dignitaries who spoke glowingly on the person of the late Professor Ajomo were the immediate past D-G of NIALS, Prof. Epiphany Azinge, SAN; Dean, Faculty of
Law, UNILAG,  Prof. Ayo Atsenuwa; NIALS director-general, Prof. Adedeji Adekunle, SAN; former Deputy Governor of Delta State, Prof. Amos Utuama, SAN; Professor of International Law, Akin Oyebade and a host of others.
Going through the brilliant outing of the late Ajomo, Chief Ajibola said that Professor Ajomo singled out himself, by usually and constantly proffering professional answers to him, for the success of the office of the AGF.
"This outstanding quality distinguished him from many in my observation of his personality. The mutual relationship between Professor Ajomo and I blossomed throughout my six years, three months, six weeks, three days and one and half hours, as Minister of Justice.
"He was a pillar of support to me as he was also instrumental to my elevation to the International Court of Justice, ICJ, as a judge. Professor Ajomo was widely exposed, he avoided materialism and largely embraced intellectualism. He was a good time manager who abundantly invested his time in productive thinking on account of my close relationship with him. He was pedestal on hard work, honesty, dedication and resilience. Every moment spent with Professor Ajomo was a worthy achievement; Ajomo avoided corruption as he detested covetousness.
"I personally benefited a lot from his leadership guide and wealth of experience in this legal profession of ours. He was a senior colleague for whom I had much respect; without an iota of doubt, he was a moving encyclopedia of law who contributed his knowledge and expertise to the development of our country. My acquaintance with the late Ajomo dates back to my days as Attorney-General and Minister of Justice in Nigeria. As a matter of fact, I consulted with him on my taking the offer and assumption of office, as the chief legal officer of our dear country, Nigeria.
"His professional advice paid off from time to time. At a point when I needed a special assistant to support and work closely with me in the Ministry of Justice, he was instrumental in the appointment of the two gentlemen, namely: the current Vice-President, Yemi Osinbajo, SAN  and Awa Kalu, SAN,  both of whom served diligently and meritoriously under me. As we can see today, both gentlemen have attained the pinnacle of the law profession and career," Prince Ajibola said.
These were corroborated by two vice-chancellors. The Vice-Chancellor,  University of Lagos, Professor Oluwatoyin Ogundipe and that of  Lagos State University, LASU, Prof. Olanrewaju Fagbohun.
On Ajomo, Ogundipe said: "Professor Ajomo served the university with distinction. Without a doubt, he was one of Nigeria's foremost scholars of International law; he did not only serve as the first President of Nigeria society of International Law, he provided much support to the Nigerian Government as he participated in various fora and authored many international works."
In his tribute, the  Vice-Chancellor of LASU, Prof. Olanrewaju Fagbohun, also a lawyer, described Professor Ajomo as a man with humanist values, adding that he is being celebrated because he was a man who represented all.
He said that his achievements were worthy of emulation, as he was a scholar of repute. "We are celebrating him and that brings me to the question: We are singing the song of Papa Ajomo, tomorrow what will be your own song? I congratulate the family of Papa Ajomo. Papa has left a legacy that will allow you to walk tall anywhere in the world," Fagbohun said.
The VC further implored the students and the institution to continue to push the frontiers of excellence and preserve the legacy that Ajomo left behind.