South African President, Cyril Ramaphosa on Friday said in spite some challenges, Africa has made significant strides in addressing economic, social and political challenges facing the continent.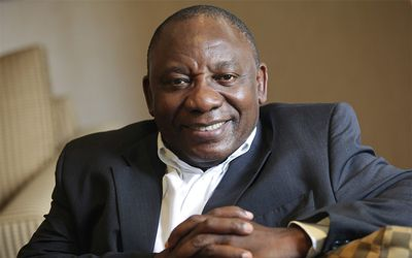 Ramaphosa was addressing diplomatic corps in Pretoria commemorating Africa Day that marks the birth of the then Organisation for African Unity (OAU) on May 25, 1963, which was transformed into the African Union (AU) in 2002.
"We take this opportunity to pay tribute to our forebears, who bequeathed to us a dynamic vision of a unified and prosperous continent at peace with itself and the world.
"It laid the foundation for the unity of the continent and contributed immensely to the restoration of the dignity of African people," said Ramaphosa.
He stated that the AU is on the right path setting norms and standards of governance and deepening the continent's economic integration.
Ramaphosa said South Africa won the war against imperialist because of the support from some African countries.
He stated that South Africa's foreign policy is anchored on the Pan-Africanist.
"South Africa's foreign policy will always be rooted on the African continent, seeking to contribute towards Africa's renaissance.
"As we have done since our liberation, we are determined to redouble our efforts in contributing to peace and security, development and prosperity for Africa," said the president.
Ramaphosa said his country would always be grateful for the support they received from the African countries during the liberation struggle.
He also pledged support to the continental blue print of African Agenda 2063.
Recently, African heads of state adopted the African Continental Free Trade Area (AfCFTA).
The AfCFTA is expected to create a market of 2.6 trillion dollars, thereby addressing poverty and unemployment.
Ramaphosa said, "This continental free trade area is a critical response to Africa's developmental challenges. It will enable Africa to significantly boost intra-Africa trade, improve economies of scale and to establish an integrated market.
"It will also be a catalyst for industrial development, placing Africa on a path to exporting value-added products, improving Africa's competitiveness both in its own markets and globally."
The president said the continental is now experiencing decline in armed conflicts leading to economic growth.
He expressed joy that some African countries like Cote d'Ivoire, Ghana, Ethiopia, Djibouti, Senegal and Tanzania are part of the 10 fastest growing economies.
Ramaphosa expressed concern about some instability in the Democratic Republic of Congo, Sahel region, Libya, Somalia and South Sudan.
Ramaphosa said 20 countries in Africa will hold presidential and parliamentary elections this year which is indicative of the deepening of democracy in the continent.
Abdelkader Naji, Deputy Chief of Mission at the Embassy of Morocco in South Africa, said that Africa have made progress in various places even though more work still needs to be done.
Naji said there were few armed conflicts in the continent and improved economic growth.
"We need to improve intra-Africa trade and remove impediments which prevent trade and free movement of people in Africa.
"We also need to combat corruption and illicit financial outflows and governance issues," said Naji.