We have no business with NMA—JOHESU, NANNM
By Marie-Therese Nanlong
Jos—Following the ongoing nationwide strike by Plateau State branch of Joint Health Sector Unions, JOHESU, Nigerian Medical Association, NMA, has raised the alarm, alleging that members of JOHESU are tampering with and adulterating reagents in the laboratories.
The doctors also accused the striking health workers of locking up hospital stores and denying those working access to consumables.
In a swift reaction, JOHESU and National Association of Nigeria Nurses and Midwives, NANNM, said they have no issues with NMA but with the government, stressing that what is of utmost importance to them is the meeting they will be having today with the state government over the strike.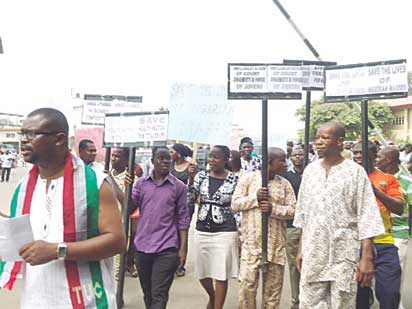 NMA's position
Speaking in Jos with journalists, State Acting Chairman of NMA, Dr. Titus Dajel, acknowledged the challenges they were facing in the discharge of their duties, but also warned that such should not prompt the government to concede to JOHESU's "frivolous demands."
He said: "The public is aware of the ongoing strike by JOHESU. While NMA is not against their struggle, NMA is worried that most of their demands are ill-motivated and a direct challenge on the leadership role of doctors in healthcare delivery.
"No doctor practising in Plateau State is on strike; the public is advised to access their services and stop patronising quacks and substandard care from the streets.
"We advise that health workers in Plateau State suspend their involvement in the ongoing strike to reciprocate the governor's goodwill.
"He has implemented one of the best salary structures for them and has continued to pay their salaries regularly.
"JOHESU officials are advised to refrain from harassing doctors or other health workers willing to work for the benefit of humanity.
"Doctors are willing to work with everyone in the health sector, but a lot of impunity must be checked.
"We have not witnessed any physical attack, but there is an act of sabotage as there are reports of some staff adulterating or tampering with reagents in the laboratory, locking of stores and going home with keys to deny those working access to consumables."
To check the ongoing rivalry between doctors and other health workers, Dajel called on the Federal Government to "implement the recommendations of the Yayale Ahmed-led committee and consider public private partnership in the health sector."
'NMA has become govt's mouthpiece'
Reacting to the accusation, an official of JOHESU who pleaded anonymity, said he wouldn't want to compound issues ahead of the scheduled meeting with the officials of Plateau State government today.
His words: "No one is making any demand on NMA; we have nothing to do with NMA. So we don't know why they are so worried about the strike."
Also reacting, state Chairman of NANNM, Mr. Raphael Maduutdai, said: "In locking the stores, whoever is in charge of a place will certainly take charge.
"But to say that reagents are being tampered with is just an allegation, because it is very unethical for anybody to do anything that will be to the detriment of his profession. I don't think any professional person would do that.
"I don't know why NMA is so bothered about this strike. They should do their work if they want to.
"It is as if they have become government; now talking for government."