Governor Abubakar Badaru of Jigawa State, Monday, recalled that when he was inaugurated in 2015, he received a voluminous document detailing huge debts and uncompleted capital projects worth N31.3 billion in the state.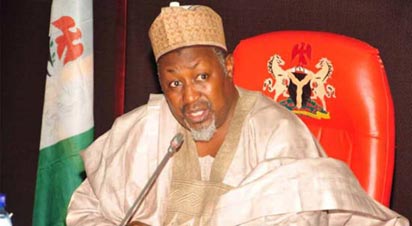 "The first day I went through the handover note submitted to me by the then Peoples Democratic Party, PDP, administration, I felt like running away because of the gravity of problems contained in the document," he said.
Badaru stated this in an interview with journalists at Government House, Dutse, as part of activities marking his third year in office.
"Since 2015, we have spent N51 billion on road projects comprising N31.3 billion on inherited projects and N19.3 billion on new projects as well as N841 million in road rehabilitation," he said.
Badaru said the efficient way he employed in managing public treasury has earned him so many foes even within his party (All Progressives Congress, APC), noting that it has not deterred him from delivering his campaign promises.
"With the little resources available, I have been able to complete 90 percent of the inherited capital projects and commenced new ones," he said.
Measures
He said the austerity measure his administration embarked on was to prevent the state from backlog of salaries and pensions, adding that the approach has successfully negotiated a discount of over N11 billion on inherited projects, with him putting back the savings into new projects.
Also, as part of the activities marking his third year in office, the governor launched the construction of an 18-room National Youths Service Corps, NYSC, members' lodge to be constructed in the 27 local councils across the state.
The building, if completed, will accommodate almost 4,000 NYSC members, he said.