By Johnbosco Agbakwuru
ABUJA – VICE-President Yemi Osinbajo Monday met with the leadership of the new Peoples Democratic Party, nPDP, that joined the All Progressives Congress, APC, at his Aguda residence, within the presidential villa, Abuja.
Leader of the group, Alhaji Kawu Baraje, had on Sunday in Illorin, Kwara State told journalists that himself and officials of the nPDP were scheduled to meet President Muhammadu Buhari at the presidential villa.
But after the meeting Monday, the spokesman of the group, Kawu Baraje, told State House correspondents that it was a good beginning and that they were looking forward to meeting with President Muhammadu Buhari.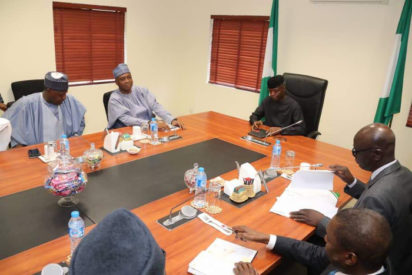 Baraje said the meeting went well but was not forthcoming on if they will still pull out of the APC. He said they were still expecting to meet with the President.
He said, "Members of the nPDP have written a letter to the party copying the President and the Vice President. So the party has invited us earlier on and now it is the turn of the Vice President, probably the next one will be the President."
Asked if they were satisfied with the discussion so far with the Vice President he said, "so far so good. We are looking forward to some of the promises. There will be other meetings because we have been put into subcommittees and then we will now identify specific and general problems and then we will proceed to see Mr. President. But it was a very good meeting."
Asked if they will no longer quit the party he replied, he said,"it is too early to say."
Recall that while speaking in Illorin, Bareje had said that he was hopeful that at the end of it, the APC would come out stronger and more united in the general interest of the citizenry.
According to him, the next line of action of his group will be determined by the outcome of the meetings.
Baraje had stated that, "After meeting with the Vice-President, the attendees at the meeting are expected to meet with President Muhammadu Buhari later in the day to intimate him about the outcome of their meeting.
"I am optimistic that at the end of the meeting with the Vice-President, and later with President Muhammadu Buhari, our party, the APC, will come out stronger and become more united in the general interest of the citizenry.
The nPDP had, in a letter, given the APC leadership a one-week ultimatum to address its grievances, which, it stated, included marginalisation.
The group was reported on Sunday to have listed fresh grievances including complaints about the conduct of the recent states' congresses of the APC and the alleged refusal of the party leadership to stamp its feet on parallel congresses in some states.
Present at the meeting Monday were the President of the Senate, Bukola Saraki, the Speaker of the House of Representatives, Yakubu Dogara, former governor of Kano State, Rabiu Musa Kwankwaso, Senator Barnabas Gamede, former governor of Adamawa Murtala Nyako, former governor of Gombe, Senator Danjuma Gole among others
Subscribe for latest Videos