By Ola Ajayi, Ibadan
Mr Yomi Layinka was recently redeployed from his position as Special Adviser to Oyo State Governor on Communication and Strategy to head the Ibadan Media City Project. In this interview, Layinka speaks on the project, how it will be funded, and what it intends to achieve not only for the Yoruba race but also the country.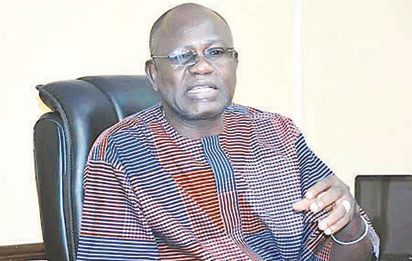 What is the Ibadan Media Project all about?
It is a major cultural project and has the potentials to transform not only the state but also the entire South-West region. It is a hub to propel the Yoruba culture. According to the Ooni of Ife, Oba Enitan Adeyeye Ogunwusi, Ojaja II, who is an entertainment and tourism freak, and who is equally interested in the project, the Yoruba nation, statically, has about 120 million people globally, from Brazil, Cuba, America and other places where you have considerable number of the Yoruba people.   It is a project which will give Oyo State, Nigeria and Africa the opportunity to tap into the global creative economy. Demography has revealed that Yoruba people are about 60 million in Nigeria alone. The Ibadan Media City Project will tap into all these to create a hub for media and entertainment.
The whole idea is to turn Ibadan, which is the socio-economic capital of Oyo State, into a technologically driven creative, media and entertainment hub. It is an idea of creating employment and entertainment, the first of its kind in Africa, which will give Oyo State, Nigeria and Africa to tap into the global creative economy, which is in excess of $13 trillion per annum, and includes the fashion and movie industries. For example, fashion in the global economy is in excess of $3 trillion per annum, tourism and entertainment are in excess of $6trillion, and food is in excess of $4 trillion, according to the World Bank statistics. And, today, Nigeria's economy is driven by oil which is not up to $500 billion per annum.
So, Ibadan Media Project is a logical move to diversify the economy from the volatile oil-driven to a technology, media, creative and entertainment – driven. You will agree with me that Ibadan is most ideal for such project, considering its socio-cultural background, and having scored many firsts in Nigeria. It is home to the first television station in Africa, Western Nigeria Television, WNTV, the first Olympic-sized stadium, Liberty Stadium, premier university in Nigeria and the first high rise building in the country, Cocoa House.
How will the project be funded?
For Governor Ajimobi, with a dynamic private sector background, this is a public/private partnership project with clearly defined framework, and government will provide the land, enabling environment and other necessary facilities.
The Broadcasting Corporation of Oyo State, BCOS, Complex, which is the site for the project, occupies 65 acres of land of which only about 20 has been put to use. It is an ideal site for the project, giving its ample space and strategic location.
Cost implication
The project has five business units, and each of them is self-sustaining. It is a media, creative and entertainment hub with fully built-up sound stage, which some of the biggest bands anywhere in the world can use, with a mall, cinema, fashion runway and media academy for the training of youths and people who desire cutting-edge skills in the industry. It consists of a four-star hotel for the use of guests, entertainment lovers, fun-seekers and stakeholders. With about 27 radio stations operating in Ibadan currently, the city is most strategic for the project.
Development period 
We are looking at five years.
Where exactly are you now?
We will be having a major investors' forum in August, with our Nollywood partners and other foreign investors to buy-in. You know we are piggybacking on similar projects in Britain, Dubai, Copenhagen, Germany and Seoul. KPMG our consultant will synergize with their partners in India, China, Europe and America. Before the end of this year, we would have taken off.   While some of the projects will start immediately, others will follow. Projects like that take 15 -20 years to come fully on stream.
Sustainability of project since this government will be leaving shortly
To my principal, Governor Ajimobi, government is a continuum. It is not for Ajimobi but for the progress of the nation.
Issue of possible hostile takeover
Well, projects that are self-sustaining, meant to promote the interest of Yoruba nation should not be affected by hostile take-over. The project is not for the benefit of any individual. So, personal or partisan interest shouldn't be a source of concern. This is a project that, in near future, will shore up the Internally Generated Revenue (IGR) of Oyo State. It will create opportunities for our teaming creative youths, using technology to create products that will open windows of opportunities to Oyo State and the entire Yoruba nation, in the areas of culture, fashion, arts and many other areas.
Are you working with the Development Agenda for Western Region, DAWN, Commission?
The Southwest governors are already talking about having a common economy. Even the governor of the State of Osun, Ogbeni Rauf Aregbesola, once said that Yoruba nation can have a pool of resources in many areas, like having one big institution.
How is this project unique?
Ibadan Media City project is different and unique. It is Afrocentric, in fact 'Yorubacentric' in concept and reality. For the design, we are engaging indigenous architects and using eco-friendly materials for the buildings. Everything about it will reflect our culture.
On security of foreign investment
There are laws to protect investments being worked on by the state House of Assembly. Meanwhile, Oyo State has records of business successes in so many areas. And our consultant, KPMG, a renowned consulting firm worldwide, has the instruments to ensure investments security.
Subscribe for latest Videos