BY JIMITOTA ONOYUME
OIL rich city of Warri, Delta state was agog penultimate   Monday when the Ooni of Ife,  His Imperial Majesty Oba Adeyeye Enitan Ogunwusi Ojaja II, visited his fellow monarch, His Majesty Olu of Warri, Ogiame, Ikenwoli.
It   was a day to display the   rich     culture of the Itsekiri nation   at the palace of the   monarch.   Itsekiri ladies in colorful costumes danced to drum beats   with significant meanings in Itsekiri . The Eson of Warri kingdom, Chief Solomon Arenyeka explained to the gathering of   Itsekiri and Yorubas   that every beat and step of the dancers   had a story of the rich   history   of love of the Itsekiri nation.   The Ooni in his remark said he was thrilled with the rich display of culture. He took time to capture in words his deep   respect for   the Olu of Warri, Ogiame, Ikenwoli. Incidentally, the two of them were coronated within a space of two weeks.
"My beautiful people of Itsekiri kingdom, I am excited to be in the midst of my people , one blood , one family. I call him ( the monarch) Ogiame, Ogiame, Ogiame   when we talk on phone.   Ogiame is a peaceful and loving king, very mature. You will never see him angry on any issue, he is full of wisdom , compassion and very innovative, amiable and above all a very loving king. I mean every word I said . Humility, godliness is all over him. ", he said.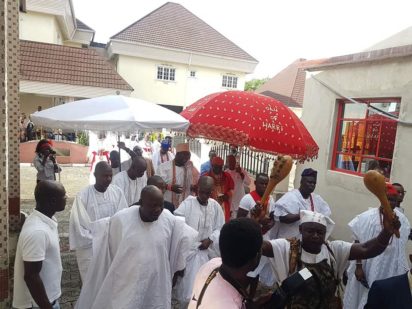 The Ooni   laced his remark with humour when he   said the Itsekiri monarch beat him recently with two pairs of shoes he bought for him as a gift . "Inface, he beat me to something, he sent two beautiful pairs of shoes to me.   You can see how caring he is. He is someone I have tremendous respect for "
The Ooni also   had a piece of advice for the nation's political leaders, calling on them to grow the cultural sector of the country. According to him, no nation develops without   growing its culture and tradition. He said the rich culture and tradition of the country is one of the things the nation can present to the world.
"We should be proud of our tradition.   Lets grow our culture, heritage as a nation. Let us uphold our rich culture, it is one thing we have for the world. We the traditional rulers must let our political leaders know this", he said. The height of the visit was when the Ooni presented a   sourvenir to the Olu of Warri.
Earlier, the Olu of Warri thanked the Ooni for gracing his coronation, noting that he was also grateful for the visit . "When I saw you that day ( when Olu was coronated ) I was impressed. You came in a big way and added so much colour to the ceremony.   I have been to you. Our kingdoms are linked historically. You were at our ancestral home, today you are here. We are grateful. ", he said.