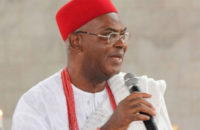 Igwe Alfred Nnaemeka Achebe
By Nwabueze Okonkwo
ONITSHA—OBI of Onitsha, Igwe Alfred Nnaemeka Achebe has  charged Nigerians to be tolerant and have mutual respect for one another, irrespective of religious and ethnic differences.
He said the major thing required by humanity as children of God, is to find out the purpose of God's creation and why God created us in the first instance.
Achebe who spoke yesterday at his palace in Onitsha when a team of pastors from Redeemed Christian Church of God, RCCG, Province of Distinction, Onitsha, led by its Provincial Pastor,  Robert Joshua Igbo paid him a courtesy call, said  that as children of God  "we must love and respect our fellow human beings whether we are black or white, Christians or non Christians."
According to Achebe, "we should not fight ourselves. Christianity is derived from Christ. We should maintain peace at all times. We are all children of God and we must respect God and our fellow  human beings".
Earlier, Pastor Igbo who was accompanied by Pastor Emmanuel Eyiuche in-charge of Covenant Zone and other zonal pastors under the Province of Distinction, explained that they decided to pay the courtesy visit on Achebe to inform him that the Onitsha Province had just been established in his domain.
Igbo who presented a gift item to Achebe, further told him that their visit was in line with the Biblical injunction which states that "we should pray for our leaders at all times so that they will be righteous and we will rejoice."