AS part of his determination to oust President Muhammadu Buhari and his approach for next year election, former President Olusegun Obasanjo Monday after over 10 years visited the leader of the Yorba Socio- Political Group, Pa Reuben Fasoranti.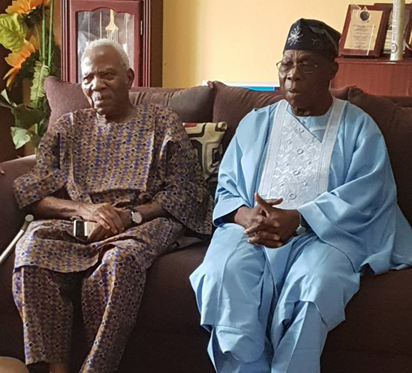 Obasanjo said that it will be disastrous for the country if Nigerians failed to joins hands together to do the needful in the coming election.
According to him "Nigerians priority now should be one and if we fail to get it right, it will be disastrous for this country"
The former President who was on his way from Ado-Ekiti, Ekiti state had in his entourage Otunba Oyewole Fasawe and Akin Osuntokun amongst others.
Speaking before going into a close door meeting with the leaders of the group, Obasanjo said that there was need to build consensus ahead of the coming election in the country.
He noted that Afenifere has been in the forefront of fighting for the interest of the Yoruba nation while he was working towards the interest of the country as a whole.
Obasanjo however, said their paths crossed as they are working towards the same goals of fostering unity between their people but on a different pedestal.
Details later