By Gabriel Enogholase
BENIN—OBA of Benin, Omo N' Oba  Ewuare II, has commended the management of Guinness Nigeria Plc for using the Benin royal symbol as its logo for its new brand product, Royal Kingdom Premium Larger Beer.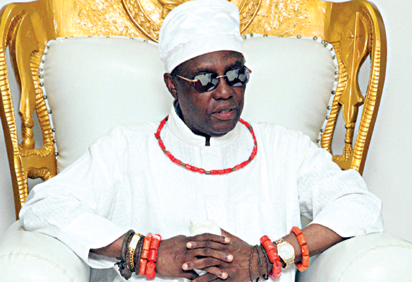 The Benin monarch, who  gave the commendation when he received the management of the company in his Palace yesterday,  said: "It is indeed interesting to see a product with royal symbols. It was quite surprising to me. I am sure beer drinkers will like it no doubt. You will make a fortune from it because of the royal symbols on it."
Earlier, Chairman, Guinness Nig. Plc, Mr. Babatunde Salvage, told the monarch that he was in his palace to introduce the product to him and to seek his blessings.
Fielding questions from journalists later,  Mr. Babatunde said Guinness has been the largest employer of labour in the state.
"As you know, Guinness Nigeria Plc is the largest employer of labour in Edo State and we have been here since 1974 when we had our first brewery. We had the second brewery in 1982 and we have been bringing innovative products which actually take their origin from here.
"And we have been having lots of value added to various communities in this place and we are proud to do that because we believe it is a good business to actually add values to the community which you live and work."