By AbdulSalam Muhammad
KANO – Governor Abdullahi Umar Ganduje has described the furore generated by cry of marginalisation by a faction of nPDP as manifestation of corruption fighting back.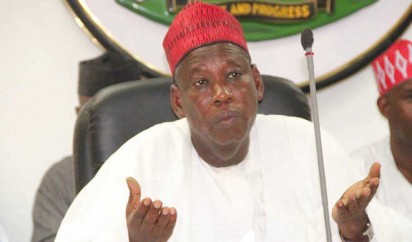 Dr. Ganduje who spoke in Kano during a parley with representation of media organizations as part of activities marking his 3rd year anniversary said that "it's certainly not a cry for marginalisation, there must be something underground".
He said "Mr. President is facing difficult time from corrupt individuals, and these cries of marginalisation by a faction of nPDP it's clearly a matter of corruption fighting back"
Ganduje declared that "the nPDP nomenclature doesn't exist anymore for it had for long fused into All Progressive Party where most serving governors, federal Mps and state legislatures were beneficiaries ".
The governor noted " how do you cry of marginalisation when in a forum of 59 APC senators, Dr Bukola Saraki from nPDP was elected as Senate President, so also several serving governors, federal legislatures and local Mp's , and if you take such issues one after the other the issue of marginalisation doesn't exist".
Dr Ganduje explained "most of us from nPDP whom I believe are in clear majority do not share the stand and position of this splinter group, and we had since made our representation to national secretariat of our great party".
Ganduje who spoke on a number of issues expressed desire to seek for second term in office, subject to the consent and approval of party faithfuls.
He said "in a specific term I'm interested in seeking for a second term in office, but it's the people who hold the ace, and I will officially declare my interest whenever I get their nod".
Ganduje said that already an unnamed loyalist has offered to buy nomination form for him in appreciation to dividend of democracy extended to nooks and crannies of the state.
He said "I have directed him to hold onto his cheque of N5m meant to purchase nomination form pending the verdict and pronouncement of our followers. "
Subscribe for latest Videos