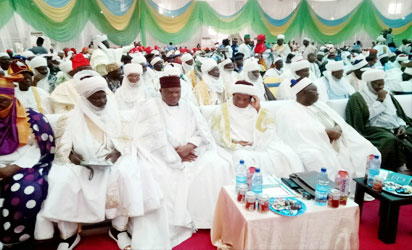 IGP Ibrahim Kpotun-Idris, Governors, traditional rulers and guests during the Northern states stakeholders security summit held in Kaduna on Wednesday
By Omeiza Ajayi
ABUJA – As part of efforts to safely navigate the country through its turbulent times, the technical committee set up by the Northern Elders forum and Southern Elders to discuss modalities to address some challenges confronting the country have met in Abuja with a resolution to have a broadbased Nigerian Elders Forum NEF that can intervene in crisis situations.
When established, the forum will evolve ways of meeting, studying situations, providing solutions and making sure that its decisions have impact on the lives of the people.
Addressing journalists after the closed door meeting at the weekend in Abuja, spokesman of the forums, Prof. Banji Akintoye, said the country's elders were worried "that things are not well with our country," adding that a lot were happening that ordinarily should not happen.
Apart from Prof. Akintoye, others were Dr. Yime Sen, Yinka Odumakin, Dr. Afred Mulade, Sen. Kofo Bucknor-Akerele, Sen. Chris Anyanwu, Francis Doukpola, Dr. Chike Dike, Engr. Bello Suleiman, Sen. Ibrahim Y. Lame and Amba. Bala Sani.
Others at the meeting include; Mr. Sam Nda-Isaiah, Sheik Idris Hayatudeen, Sen. Saidu M. Dansadau, Alhaji Falalu Bello, Dr. Doyin Okupe, Yerima Shettima, Dr. Charles Nwekeaku, G. G Darah, Barr. Abdullahi Usman Toro, Prof. Rahila P. Gowon and Abdulrazaq Adamu among others.
He said: "We are elders, we are not active politicians. Most of us are not active politicians. We have come together because we are worried about the condition of our country. Things are not well with our country. A lot of things are happening in our country that ordinarily should not happen. Ours is a land of promise, a land well-endowed by nature with a lot of wealth but we are not using the wealth to enrich our people. Instead, we are going down, down and down in terms of prosperity and progress", Akintoye said.
Speaking further, he said; "So, we have decided to work together – that is the most important thing because the problems are many. There is a general problem like the problem of ecology. The desert is moving South on us, upon our country and we are not doing anything about it. The ocean is moving in from the South, parts of Lagos already under sea level and we are not doing anything about it.
"Parts of the South-south too already under the sea and we are not doing anything about it, and in the East, there is serious problem of gully erosion. Nobody seems to know what to do about it.
"And then, the economy itself; we have become a country that is no longer productive because lack of productivity is the big problem now of our country, and we have to do something about it. We also have this huge problem of poor governance. It is no longer a question of party, it is no longer a question of one party is doing better than the other, you can see now clearly, even though our political parties are rarely no longer political parties, they are just neighbours or combination of people who want to gather together and win elections and control the wealth of the country which has come to me, as making yourself rich.
"That is what it has become, and the quality of leadership has fallen so drastically that it is not possible to have any progress in the hands of such poor leadership and then now we have reached a point at which where we are actually killing one another. People burning around killing their countrymen and destroying their livelihoods.
"So, we cannot go on like this, we elders of the country have decided that we cannot go on like this. We must change actions to change these things," he stated
While speaking on the resolutions of the closed door meeting, Prof. Akintoye said: "What we have decided is to set up – and this is the height of our decisions, to set up a Nigerian Elders Forum.
"The Nigerian Elders Forum that will establish its own means of meeting and study situation and provide solutions and make sure that the decisions have impact on the lives of our country. Those are the things we have decided today."