Diego Simeone insists his Atletico Madrid team will be giving no thought to the fact that Thursday's Europa League semi-final could be Arsene Wenger's final European match in charge of Arsenal.
Atletico carry a 1-1 draw, and an away goal, into the second leg at the Wanda Metropolitano, with a place in this month's final now in sight.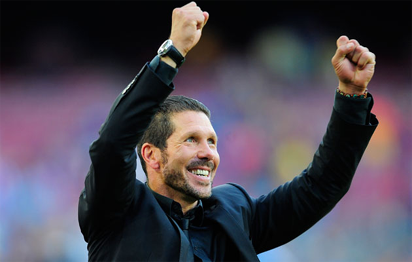 Defeat for Arsenal would mean them missing out on Champions League qualification for a second season in a row, just as Wenger calls time on his 22 years in charge.
Simeone, however, said there would be no room for sentiment when his players take to the field.
"We are not thinking about Wenger's last season at Arsenal, only about what we need," Simeone said.
"We need to see a full stadium, the excitement of our players, the energy in the team, that's what matters to us."
Simeone was sent to the stands in last week's opening game in London and the feisty Argentinian will serve a touchline ban in the second leg.
"I'll take it badly," Simeone said. "I'm sad about this situation and I'll have to improve. I better shut up."
Atletico have, however, been boosted by the return of two key players as Diego Costa is available again after a hamstring injury and Filipe Luis could also feature after recovering quickly from a broken leg.
"Diego lives off his power and in every match his contribution is huge," Simeone said. "Filipe has been out for two months, he's not playing 90 minutes, but if I call on him, he will respond.
"Many games are played with the heart as well as the legs."
Atletico will be favourites, having not lost at home in La Liga all season, but Arsenal dominated the first encounter and were unfortunate not to secure a more flattering result.
"They have great players and a great coach," Simeone said. "They have great players between the lines like Ozil. They have a lot of speed in the final third.
"On their most important days they always manage to play better. To get here you have to be a good team and Arsenal are."