…Immune Mechanisms for an HIV/AIDS Vaccine
By Gabriel Olawale
As effort towards development of a universal preventative Human Immunodeficiency Virus, HIV, vaccine begins to show promise, the hope of People Living With HIV, PLWH, has been to rekindled as they wait anxiously, in expectation that,  one day their reproach would turn to joy and all the trauma, stigmatisation and agony would  be in the past.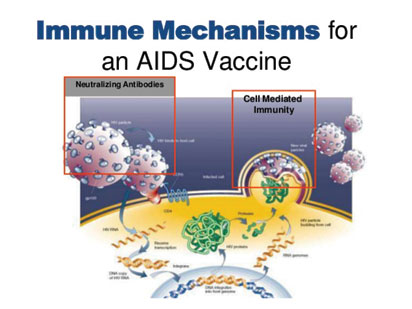 Mrs Joy Obi, one of the PLWH accessing treatment at a treatment centre in Lagos, told Vanguard that the day a successful universal HIV vaccine is discovered would be her happiest on earth.
"I will be overjoyed because I wouldn't need to take my drugs again. And the problem of transmission of HIV to babies would be out of it.
"I would be like a new creature, a new baby without worry. The stigma would disappear and I would be free of trauma.
Äccording to Joy, many of her friends currently perceive her to be a prostitute because she is living with HIV even though she contracted the virus through sharing of a sharp manicuring blade.
"I have lost contact with many of my friends because of my status but with the vaccine I will become as good as new," she enthused.
In his own view, Mr Ireti Tobiloba who said he contacted HIV from his wife, noted that the existence of a universal preventative HIV vaccine would probably had prevented his infection.
"Ordinarily if there is HIV vaccine, I think it's everybody would want it because people want to live a life free of diseases.
"There are many logistical limitations and cost challenges that come with accessing life-long care as someone living with HIV. Buying anti-retroviral (ARV) drugs at higher price from the private market some of the products which turned out to be fake or expired will be a thing of past with vaccine.
"I know many people who have lost their job, some suffer societal and family isolation even as government pushes out policies to alleviate sufferings. Some people lost their jobs because of their status and the need to miss work because of doctor's appointment or check ups won't be there again.
"So continuing research to find a cure that controls the virus in the absence of antiretroviral treatment (ART) remains an important step to ending the epidemic."
As Nigeria joined the global community this year to commemorate HIV vaccine Awareness Day which is observed annually on the 18th of May, experts expressed worry that Nigeria may not benefit from a preventative HIV  vaccine if it does not key into its development now.
An HIV vaccine is a vaccine which would either protect individuals who do not have HIV from contracting the virus, or otherwise may have a therapeutic effect for persons who have HIV or later contract HIV.
In the views of Senior Research Scientist with Nigerian Institute of Medical Research, NIMR, Onwuamah Chika, the HIV strain varies globally and even the one Nigerians have are not unique.
He disclosed that in Nigeria the predominant type of HIV strain found in the Southern part of the country is different from the one in Northern part of the country, "HIV 1 subtype G are found in Southern part of the country while it is more of CRFO2_AG in Northern part of the country.
"As a country, we need to key into HIV vaccine research because our HIV strain is different from other part of the world. What that means is that if they continue to research with other strain, once the vaccine is available it might not work for us.
Chika who expressed dissatisfaction with the present state of Nigerian vaccine laboratory in Yaba, Lagos, called on government to reactivate the laboratory.
"Nigeria has a high burden of people that can actually be use for HIV experiment. Nigeria can help generate information on the type we have and to ensure that the type of cure they are bringing will be effective against those type of strain that are peculiar with us in this country."
He pointed out that in NIMR there are limits. "For instance this laboratory where I work is level 2, we won't be able to do much research on Lassa Fever for example because we need much higher safety level rating and those kind of things take money to get and maintain.
"We have many tertiary institutions in Nigeria but not many of them have quality rating and those are the things they look out for before they come. People keep asking why is it that some studies are carried out in Uganda or Kenya and not Nigeria. What I tell people is that those countries may not have so much but what they have is up to standard.
"What we need to do is to strengthen our system, you can't have such technology and say that you are on strike and you can't come to work. A lot of the laboratories that have been funded and maintained by some of these donor agencies are now being handed over to government but it takes a lot of money to maintain. Many of the laboratories in the country do not have personne and resources to work with.
Corroborating his view, the Deputy Director of Research in NIMR, Dr. Oliver Ezechi disclosed that the world has made progress when it comes to HIV, "some decades ago inside this NIMR clinic, every morning you see people coming here and dying. You see people as they are trying to bring them out of the vehicle and they are already dead.
"But if you look at this clinic now, we don't have people who are that sick again, so what it means is that parents with HIV positive can now have HIV negatives babies."
He explained that investment in research beyond financial commitment, "It involves capacity building, infrastructure among others. If you give me $20 million and I don't have people to work with, equipment and enabling environment the money will just be a waste, so it is a systematic planning.
"The first thing the country needs to do is to ensure we have Masters and PhD students who are interested in research. Vaccine research is not something you just wake up a day and said you want to start.
"Financial investment in research by government must be consistence and has nothing to do with change in administration. If you drop $50 million today, and next year nothing, you will not achieve anything.
"Individual and coorporate organisations have been investing on HIV cure for more than three decade, so research is capital intensive and government need to determine that every year certain amount will be budgeted for research and innovation.
The Programme Manager of New HIV Vaccine and Microbicide Advocacy Society, Durueke Florita said that they are committed to a conducive environment that supports HIV related research in Nigeria.
"We work through advocacy for the creation of national policies and programmes that promotes ethical conduct of research in Nigeria. We are looking forward to working with other global partner on the field to see the world could have HIV vaccine and to ensure that Nigeria do not left behind in HIV vaccine enterprise.
"We support communities and build their capacity to understand the issue of HIV vaccine and how they can support it. We are looking at effective vaccine that community can use which is cost effective, available, accessible and most importantly vaccine that will be deliver as comprehensive prevention package for the community.