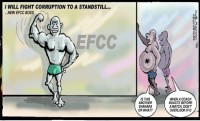 BY JIMITOTA ONOYUME
WARRI – Nigerian Navy has handed over a vessel arrested with 386,000 litres of illegal crude to the Economic and Financial Crimes Commission, EFCC, in Warri South , Delta state.
Speaking on board the vessel, MT Nipal yesterday on NPA River in Warri south , Commander , Nigeria Navy Ship Delta, NNS, Delta, Commodore Ibrahim Dewu said the vessel was arrested by his men around SPDC Afromol oil field, in the state , adding that nine of the crew members were also arrested. .
" Men of the NNS, Delta arrested the vessel with 386000 litres of crude on January 31st ,2018. We also arrested nine crew members onboard the vessel. The vessel was brought to the NNS Delta. We are handing over the vessel, content and the crew members to the EFCC for prosecution. ", he said.
Commodore Dewu said the. Navy will continue to smoke out oil thieves on the water ways, appealing that those into it should shun the crime and embrace other productive ventures.
Senior Detective Supertendant, of the EFCC, Benin office, Mr Richard Ogberagha who took delivery of the vessel and those arrested said the commissioned. would continue further investigation to determine extent of involvement of each of the suspects.
He said the EFCC had already taken samples of the illegal crude as part of the investigation.
"We have taken possession and have taken our samples. Investigation has commenced to know the extent of involvement of the crew members. And all appropriate actions will follow ", he said.