AS part of effort to improve education standard and to promote its culture in Ika Nation, National Association of Ika Students (NAIS) has successfully completed its Ika youths/students conference with the theme "Leaving a Legacy".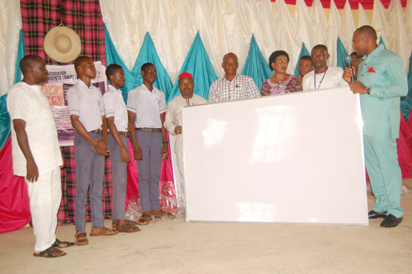 The campaign commenced with a quiz competition at Staff Model Secondary School, Agbor with the first position smiling home with a scholarship from secondary school to university, second position, a laptop and third an iPad. In addition, the 10 best schools in Ika nation went home with smart white marker board as well as the distribution of note 100 books and pens to students and teachers.
Those who emerged victorious in the quiz competition in the individual category are Obi Clinton (first); Okonta Joshua (second) and Edoki Chukwuyem (third).
The second phase of the conference was a three days skill acquisition training for Ika youths both students and non-students with over 60 participants in attendance, trained in various skills such as baking of cakes, cyber cafe management among others.
Speaking at the grand finale at the College of Education, Agbor, the keynote speaker and Delta State Commissioner for Secondary Basic and Education, Mr. Chiedu Ebie, commended the student body for the initiative, calling on all well-meaning Ika sons and daughters to support the initiative to advance the cause of education in the nationality.
He described the initiative by the students body as a step in the right direction, noting that education remained the key to unlocking the potentials of youths in the state and country.
Earlier, the national President of NAIS, Comrad Akaeze Daniel, stated that education remained the best gift any group or individual could give to anybody, calling on all Ika sons and daughter to partner NAIS so as to advance the cause of education in Ika nation.
He stressed that the need equip Ika youths educational and skillfully endeared NAIS to embark on the campaign in order to take Ika youths of the streets by gainfully empowering them to become self reliant.
While commending Barr Chiedu Ebie Commissioner for Basic and Secondary Education, Chief Andrew Emeri; lawmaker representing Ika North-East, Hon. Tony Elekeokwuri, Hon. Prince Ned Nwoko, Sir Tony Obuh; Special Assistant to the state Governor on Students' Affairs, Comrade Jerry Ehiwario, and all those who made the youths/students conference a reality, Akaeze called on all students and beneficiaries of the conference to justify the educational materials, scholarship and cash by putting it into judicious use.
The high point of the event was the presentation of certificates and cash empowerment to participants, beauty pageantry, presentation of educational materials among others.