By Nwafor Sunday
As the number of presidential aspirants increase day by day with each reeling out his manifestos and political promises, presidency is not left out to mention how President Muhammadu Buhari is better off.
Lauretta Onochie, the social media aide to Mr. President on Saturday said that Nigerians money is safer in the hands of President Muhammadu Buharia and his vice, Prof Yemi Osinbajo.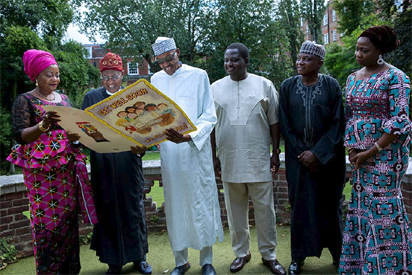 She noted that with this uncommon virtue, Buhari has more advantage over other prospective candidates interested in the presidential race.
Her words, "Our money is safe with @MBuhari and @ProfOsinbajo who are also committed to d alleviation of poverty in our nation through Social Investment Programm. This means that they have a huge advantage over all known prospective candidates and Jokers."
Supporting Lauretta's statement, Gov. Abiola Ajimobi of Oyo State stated that no other president in the country has managed the nation's economy better than President Muhammadu Buhari.
Part of his statement read thus, "I read Economics and Finance, and there is no economic theory that we have not read. The most important part of all the economic theory is leadership.
"And Nigeria is lucky to have that leadership. There is no president in Nigeria that has ever managed the economy like Buhari."
Recall that Vice president Yemi Osinbajo in Akure at the inauguration of Small and Medium Scale Enterprises (MSME) Clinic lauded the current administration, noting that Buhari has achieved so much with nothing.
He equally said that God will not allow mischief makers to take the mantle of leadership and pledged to arrest and probe corrupt politicians.
According to him, "The corruption is desperately fighting back so that they can come back to power. God will make it impossible"
"We had access to lesser money than the previous administration but what we had been able to do were far more than what they did.
"We are able to achieve this because we are spending what we have for the people.
"They promised Lagos- Kano rail line, they did not do it. We earn lesser than they had, we are doing it.
"Look at Lagos Ibadan rail line, they had much money, they did not do it, we are doing it. Look at Lagos -Ibadan Expressway, we are doing it. " We shall continue to arrest these who stole the nation's money.
"They said we have not been able to convict anybody, we are not bothered, we shall continue to arrest and prosecute them. Let the case remain in court."