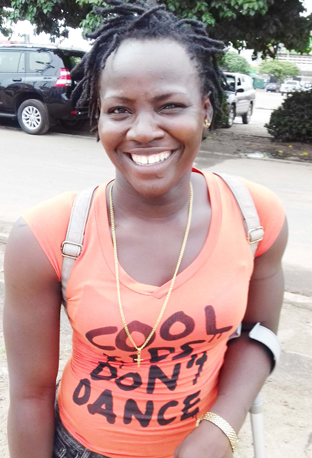 *Okoro: Special sports athlete
Special sports athlete, Nkiru Okoro has lamented the lack of  modern track wheelchair equipment for athletes use in the country.]
Okoro who made the last Commonwealth Games in Gold Coast Australia, but was dropped from the contingent said many Nigerian special sports athletes' ambition to win more medals for the the country is been hindered by lack of modern equipment. "The track wheelchair we are using is obsolete. If only I can afford to buy one for myself, I'll do it because I'm positive that I can break the world record.
"Waiting for the sports authorities to supply us with modern wheelchairs which cost about N1m is a mirage. This is why I am struggling to go for international meets so that I can make some money and buy one for myself," said the athlete.
She revealed that she was deeply pained after being dropped from the Commonwealth Game party. "I went through a hard time traveling to Abuja for the trials. I paid for my expenses and also made the qualification standard. "But in the end they did not include me, even when I had the potential to win a medal for this country.
"This is very discouraging for me and others. We know just how are colleagues overseas are being pampered but not so for us, even when we struggle on our own to come to training."