Edo State Governor, Mr. Godwin Obaseki, has said that the successful conduct of the 2018 local government elections, the local and state governments' congresses of the All Progressives Congress (APC)  in the state, demonstrates his administration's resolve to deepen democratic culture that allows for popular participation.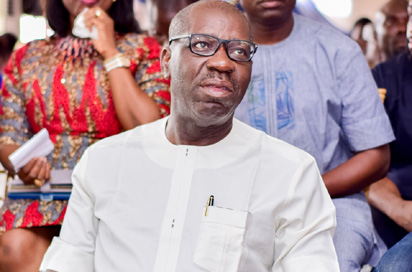 The governor said this when he received the report of the March 2018 local government election from the Edo State Independent Electoral Commission (EDSIEC), led by its Chairman, Prof. Stanley Orobator, at the Government House, in Benin City, the Edo State capital.
He said the feat was achieved because of the structures put in place to allow for inclusive and participatory democracy, noting that the state chapter of the APC has entrenched a culture of democracy.
He noted that this was demonstrated during the conduct of the local government election, and the party congresses held in units, wards, local government areas, and at the state level.
Obaseki noted that aspirants, who passed through the screening at the ward and local government levels had the popular support of their constituencies, adding that this goes to show that the state has successfully entrenched a culture of participatory democracy.
He explained, "The Party congresses were conducted relying on the endorsements of party members. This accounts for the reason why Edo State is one of the few states where there was no record of violence or any serious appeal against the process. We all agreed that those who were vying for political positions be subjected to scrutiny by their people at the ward level."
Obaseki commended members of EDSIEC for successfully conducting the 2018 local government polls, which have been adjudged by observers as one of the most credible in the history of the state.
"We were able to successfully conduct the election due to your dedication, commitment and level of professionalism put into organising the process," he noted.
Earlier, Chairman of EDSIEC, Prof. Stanley Orobato, expressed appreciation to the governor for not interfering in the activities of the commission, which resulted in the success of the election.
Prof. Orobator hinted the governor that the commission has continued to receive accolades, including an award from Ghana on the successes recorded in the conduct of the 2018 local government polls.