Medical doctors and volunteers from faith based organisations are now rendering services to patients in medical facilities Gombe State, newsmen report.
This is sequel to the protracted strike embarked upon by the Medical and Health Workers Union of Nigeria (MHWUN) in the state.
Newsmen monitoring the development in Gombe on Wednesday reports that MHWUN national secretariat directed all state councils of the join the JOHESU nationwide strike.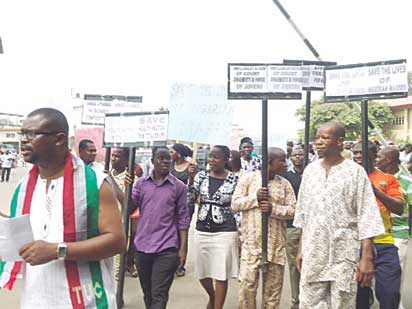 The local councils were also asked to include their own peculiar issues in their respective demands.
Members of MHWUN at the state Specialist Hospital, General and Cottage Hospitals as well as Primary Health Care facilities in the state consequently joined the industrial action.
The Head of Clinical Services, Gombe state Specialist Hospital, Dr Garba Manasseh, told NAN that the strike had affected normal hospital care delivery services.
He explained hospital service as a team work and should one person be missing the impact would be felt negatively.
Manasseh, however, said that volunteers from faith based organisations were augmenting the efforts of resident doctors and members of the Nigeria Medical Association (NMA) to cushion the effect of the strike on patients at the hospital.
The official said they used their discretion to discharge patients who have improved in their medical conditions, adding that this was the reason why the hospital is looking deserted.
"Those needing attention are however receiving the desired attention in some of the wards.
"We have fortified the Accident and Emergency Unit because that is the point of entry where services are rendered.
"Doctors are there including some volunteers in mufty who are augmenting the services of the medical doctors," he explained.
The state Chairman of MHWUN, Mr Yusuf Bello, told newsmen that they were acting in compliance with a directive received from their national headquarters to join the strike and include their local demands.
Bello listed their local demands to include the full implementation of Consolidate Health Salary Structure (CONHESS) at the local government level at par with their state counterparts which was approved since 2012, but yet to be implemented.
Other demands were the release of promotion letters, implementation of arrears without being selective and automatic payment of rural posting allowances which now goes through rigorous protocols.
Besides, they are asking for rising to the position of directors and be allowed to reach their career peak like other civil servants in addition to the creation of laboratory science department out of the Directorate of Hospital Services.
NAN