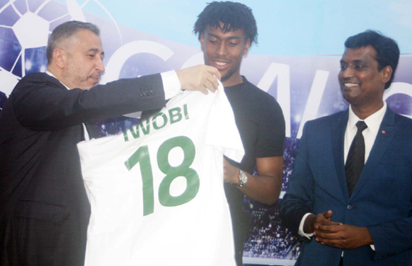 Mr. Mohammed Fouani, Alex Iwobi and Hari Elluru
LG Electronics has signed Super Eagles winger, Alex Iwobi as its official brand ambassador.
Mr. Mohammed Fouani, Alex Iwobi and Hari Elluru
Speaking at the unveiling, Managing Director, LG Electronics West Africa Operations, Taeick Son said: "the choice of Alex Iwobi went through a thorough process and in the end we zeroed in on him, going by his antecedent in the field of play and most importantly how he is generally perceived as a player around the globe, we have no doubt whatsoever that he is the right face to represent the brand, and at the end he would do us all proud. On that note Alex, I say welcome on board."
Responding Alex Iwobi said: "For me this is a rare privilege and honour to be the brand Ambassador of a renowned electronics giant as LG Electronics, I must say I am indeed happy and I will continue to do my best in the field of play which obviously was what attracted the brand to me in the first place. Secondly, as an ambassador of the brand, I will continue to perform in ways that connect with the performance of the brand in millions of homes."
Also speaking, Managing Director, Fouani Nigeria limited, Mohammed Fouani, was full of praise for the player.
He said "I am particularly happy this deal has been sealed today which for us brings in a unique opportunity for both Alex Iwobi as our ambassador and LG Electronics as the brand, this collaboration would obviously pay off in the long run."