By Chimaobi Nwaiwu
NNEWI—INDIGENOUS People of Biafra, IPOB, yesterday alleged that a team of Special Anti Robbery Squad, SARS operatives of the Nigeria Police, abducted Emmanuel Kanu, younger brother of its leader, Mazi Nnamdi Kanu and his cousin, Bonaventure Uche Njoku in Umuahia, Abia State and took them to an unknown place.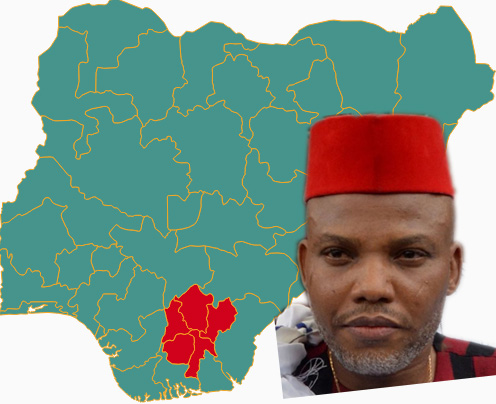 IPOB in a statement by  its Media and Publicity Secretary, Comrade Emma Powerful, said that the  SARS operatives from the way they behaved as captured  on CCTV, were on a mission to kill Mr Kanu but warned that hell will be let loose if anything untoward happens to him.    "We once again draw the attention of the civilized world to the systematic and orchestrated secret killings of Biafrans closely related to our leader, Mazi Nnamdi Kanu but this will never cow us.
"This afternoon, a team of stern looking SARS personnel were caught on CCTV pursuing a vehicle with Prince Emmanuel Kanu and his cousin, Mr Bonaventure Uche Njoku in it. Their behaviour is tantamount to people on a mission to kill. Reports reaching us is that the two, Emmanuel and Bonaventure have now been abducted by SARS and taken to an unknown location.
"Not content with the abduction of Igbo Jewish religious leaders, they have now  resorted to  target direct members of Nnamdi Kanu's family whom we presumed  was killed during the Operation Python Dance 2 in Umuahia Abia State last year.
"Those urging IPOB to remain peaceful must prevail on the present All Progressives Congress, APC government dictatorship to release innocent Biafrans in their custody because, no amount of intimidation and illegal arrest will prevent the coming of Biafra independence."
"Abductions, illegal detentions and summary executions have never stopped any legitimate march towards freedom. These spate of abductions are a sure sign that IPOB is winning."
"Their Operation Python Dance and negative media campaigns did not stop IPOB, perhaps they think that a few abductions here and there might. Whoever advised Okezie Ikpeazu and the Edo born Commissioner of Police to target Kanu's family has done them a great disservice."