By Charles Kumolu
LOKOJA—Governor Yahaya Bello of KogiI State has called on President Muhammadu Buhari to use the recovered looted funds in empowering farmers, artisans, and small businesses, saying the downtrodden are the major victims of corruption.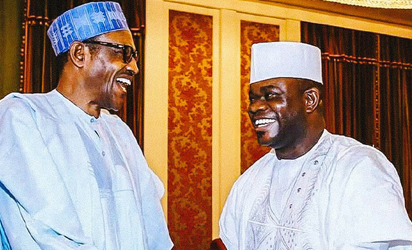 Bello, who said this in Lokoja while flagging off the wet season farming programme,  said  Nigeria's potentialities in agriculture could be harnessed if properly funded.
His words: "Let me congratulate Mr. President for using his global reputation as an uncompromising anti-corruption crusader to repatriate our stolen wealth.
"The biggest victims of corruption are the downtrodden in the society who were deprived of quality standards of living.
"To this end, I want to make a passionate appeal to Mr. President to invest recovered funds in agriculture in fulfillment of his promise to ensure the economy of Nigeria depends on agriculture and other non-oil sectors.
"Those who criticised the Federal Government have forgotten that the $2 billion stolen in the previous administration would have engaged millions of our youths in agriculture.
"Today, our president is doing what they failed to do. We experienced the same thing here when officials of government in the previous administration sat to share the N2 billion meant to empower the youths and women through Small and Medium Scale Enterprises. With half of that, we are creating 5000 millionaires among our farmers.
"Kogi State government will continue to collaborate with the Federal Government to take our people above the poverty line through agriculture."
Also speaking, the state Commissioner for Agriculture, Mr. Kehinde Oloruntoba, said the state had commenced a revolution in the sector, adding that successes recorded in Omi Dam and Osara are redefining the economy of the state.