…Signs 5,172 C of Os in three years
By Kingsley Adegboye & Olasunkanmi Akoni
The Lagos State Government has said N11.8 billion was paid as compensation to property owners whose structures were demolished for construction, reconstruction of roads, flyovers and ramps among other public infrastructure across the state in the last 12 months while N10.5 billion was generated from land sales in the same period.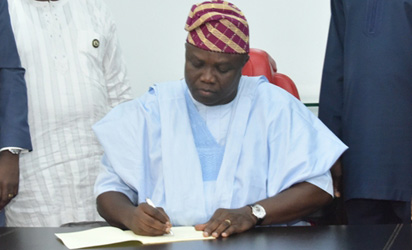 Special Adviser to Governor Akinwunmi Ambode on Urban Development, Mrs. Yetunde Onabule, disclosed this at the annual ministerial briefing to render account of achievements of the state's Lands Bureau in the last one year as part of activities marking the third year anniversary of  Ambode's administration, held in Alausa, Ikeja.
Onabule said the state government has commenced payment of over N11.8 billion as compensation to owners of property that had to give way for construction of roads, flyovers, ramps and other critical infrastructural projects across the state, pointing out that the payment was for property demolished for projects including the Abule Egba road expansion, Epe Road expansion, Lekki International Airport, Pen Cinema flyover, ultra modern bus terminal in Oyingbo and  upgrading of Murtala Muhammed International Airport Road.
Other projects on which it is paying compensation include Mechanic Village, Gbagada Phase1, Ojokoro Specialist Hospital, construction of Freedom Road/Drainage channel, reconstruction of Agri-Ishawo Konu-Arepo Road, among others.
Onabule said that following the approval of the projects, the state's Ministry of Physical Planning and Urban Development moved to those areas to determine the Right of Way, ROW, for the proposed projects, while the Lands Bureau carried out a reconnaissance survey and detailed enumeration of claimants affected by the development including residential, commercial, petrol filling stations and religious centres.
On C of Os, the Special Adviser said: "I can confirm to you that in line with the provisions of the Land Use Act 1978, which is the enabling law for the revocation of right of occupancy and payment of compensation thereof in the country, interest in the affected property has been promptly revoked and enumeration of the property completed.
She, however, added that payment is done after due presentation of all necessary documents by claimant proving true ownership of the property. She therefore urged affected residents to speed up their verification processes and forward their documents showing evidence of ownership of the property.
Onabule added that following the quest by the present administration to ensure that residents obtain title documents with ease, the Governor had signed a total of 727 Electronic Certificate of Occupancy E-C of O in the year under review, thus bringing the number to 5,172 of such certificates in the last three years.
She said the implementation of the land administration and automation system known as Thompson Reuters Automation Solution, when up and running, would go a long way to reduce problems associated with redundant data, increase accuracy by reducing manual entry errors and ensure a one-stop shop to facilitate unhindered and secured access to land application and title documents in the state.
She stressed that land grabbers' persistent encroachment on government lands across the state led to empowering Land Use Allocation Committee, LUAC, to team up with Lagos State Building Control Agency, LASBCA,  to commence removal of all illegal structures on government schemes.
According to her, "It is most disheartening to say that a very large number of government land schemes are being confronted with problem of encroachment."
On reasons for the continued encroachment, the Special Adviser said that allottees aided the speculators to encroach on government lands,  saying, their not taking possession of their plots  encourages "Omo-Onile" and illegal squatters to takeover government lands.