By Luminous Jannamike
ABUJA – As President Muhammadu Buhari is expected back from his four-day medical trip to London on Saturday, the Joint Health Sector Unions, JOHESU,  has blamed the past administration of Gen Ibrahim Babangida (rtd), for promulgating Decree 10 of 1985, which it said, debased the nation's health sector and reversed the fortunes of Nigeria as a top destination for medical tourism in Africa.
It rationalised that the infamous Decree 10 took away the day-to-day administration of government-owned healthcare centres from professional hospital managers and assigned the role to doctors whose training in medical school did not include any form of management or business skill. Thereby, triggering a downward spiral effect in the efficiency of government-owned hospitals.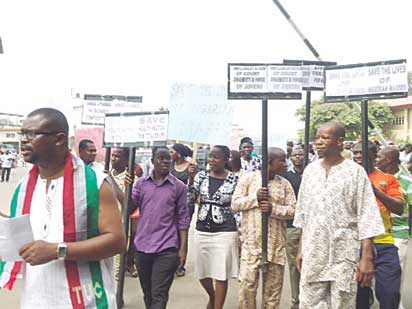 JOHESU also slammed the administration of President Buhari for paying lip-service to the fight against corruption especially in the Federal Ministry of Health, saying that unless graft is tackled in the health ministry, Nigerians should perish the thought of enjoying improved services at government-owned hospitals.
Fielding questions from journalists in Abuja yesterday, JOHESU President, Comrade Biobelemoye Joshua, said: "Prior to the time that the management of government-owned hospitals was given to medical doctors through the promulgated Decree 10 of 1985 by the Babangida regime, health care and services were very competitive across the country.
"In fact, highly placed individuals from around the globe including a Prince of Saudi Kingdom streamed into Nigeria for medical tourism. Medical tourism was in the opposite direction of what we have today. That means, Nigerian hospitals had the capacity even though not as advanced as today.
"UCH Ibadan was a model medical centre that was envied by all across Sub-Saharan Africa. But since that wrong policy decision was taken by Babangida that hospital administration should be done by doctors, who in most cases lack managerial expertise,  and no longer by well-trained hospital administrators, health services have gone South in the country.
"Added to that is the issue of corruption. We at JOHESU have fought against corruption in the health sector and have tasted the bad side of fighting corruption. So, we can authoritatively tell you that corruption in the federal ministry of health must be eliminated for health services to improve for all."
Also speaking on the issue of medical tourism among Nigerians, the Chief Medical Director, Life Hospital and Medical Spa Abuja Dr. Ijeoma Mbadiwe, urged the Medical and Dental Council of Nigeria, MDCN, to allow doctors and proprietors of healthcare centres to advertise their services in order to showcase treatment and therapies some Nigerians seek abroad without knowledge of their affordability and availability in the country.
"MDCN should allow doctors to advertise their services and hospitals. If it can allow Indian doctors and foreign medical entrepreneurs to cone to us and advertise their services and hospitals, Nigerian doctors should be allowed to equally do likewise as is the practice in most developed nation," she advised.