Says "Children in the North suffer too much"
By Juliet Ebirim

13 year old gospel artiste, Iseoluwa Abidemi catapulted herself into limelight following the release of her self titled single album and maiden live music concert last year. The launch of her album and colourful video left memorable impression in the minds of gospel music lovers. In commemoration of Children's Day today, she shares her hopes, fears and dreams for the Nigerian children, as well as her thoughts on terrorism and how it affects children especially in the North. Read on…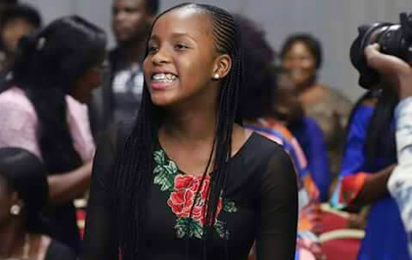 What has changed about you since your debut last year?
I think I'm more popular now and I feel good about it, because it boosts my self esteem.
What's your special message to children this Children's Day?
My special message is for those who think others are better than them to stop doubting themselves. Keep aiming high and God will see you through.
If you had the power to change one thing about being a child, what would that be?
I'll change the way adults see suggestions from children. A child might want to proffer a solution to a problem an adult has, but then the adult shuns him, because he/she is a child, inexperienced and immature. So if there's one thing I could change, then that would be it.
What do you think should be the place of children in the society?
Children should actually be taken seriously – both their pains and happiness, because most of us don't have the liberty to be in fancy places. Most of us suffer really hard and then there's still so much pain around and no-one is listening.
What is the major challenge children face?
It is poverty. You see children hawking on the streets when they are supposed to be in school. You see them asleep and hungry by the roadsides.
How are you preparing for your second concert, after your amazing debut last year?
This year's will be definitely better than last year's concert, because I'm definitely going to put in my best. My whole team including my first ever role model – my mum, are working towards it. As the date draws closer, we will begin to publicize it.
Let's talk about your education…
I just finished J.S.S 3 and I'm on a very long holiday. So my parents think it's a good opportunity for me to spend time on music, though it doesn't mean that I won't study. I just try to balance it.
You disclosed in an interview that you want to study Law, is that dream still valid?
Yes it is. The fact that I do music doesn't change anything.
How do you get inspiration for your songs?
I really don't know, but most times I just sit down and those ideas and words keep coming to my head. It mostly starts with something I've been thinking about or a subject I've been studying. I think that a quiet mind is actually the best time to write a song or when you're enjoying something, you should be able to pick one thing out and turn it into something beautiful and it doesn't have to be a secular song.
Do you see yourself doing secular songs in the future?
Not at all. My mind is determined and when I say I'm not going to do something, I'm not going to do it. Nothing is changing. I have a strong mind and I know the God I'm serving.
Do you think gospel songs are doing as well as their secular counterparts?
Nowadays, gospel songs are actually leveling up to the standard. Before now people used to enjoy secular songs more because they feel some gospel songs are 'boring'. These days, there are gospel songs that will just make you let loose and so people don't really have any reason to say gospel songs are boring and so on. It boils down to personal choice though.
Why aren't there more teenage gospel artistes like yourself in the industry?
In most cases it's due to lack of devotion, while sometimes, most people don't have the privilege. A lot of teens are really talented, but are not privileged, while some just stop trying at some point. When they are older, they try to bring it back, but then it's already gone. There are a lot reasons why there aren't more teen artistes. It can also be due to peer pressure. If you want to be gospel artiste, you need to have a strong mind, but even if you don't, you should still be focused on what you are doing. You are not doing it because of man or business, but because of God.
Talking about peer pressure, what has kept you going?
I can boldly say my very close friends are not into secular songs. I have Muslim friends but they don't listen to secular songs. They find it really annoying and irritating. But personally, I don't get irritated easily, but some things just tick me off like people being too proud and arrogant.
What's the idea behind your latest song, 'Rababa'?
The song is mostly just thanking God for everything he has done and how he's going to do more. When I think about his mercies and grace towards me in the midst of crises and chaos in the country, God has been faithful. I turned everything into a song and my teacher also helped with Igbo language which I used. The song is yet to be released though.
Let's talk about children in the North who have been worst hit by the Boko Haram menace (Dapchi girls, Chibok girls), child marraige and so on…
It is really painful to look at all these things. I just wish that I could just meet with the president, definitely, I know that one day I would. I hear people who are comfortable say they are suffering, but I think the plight of children in the north especially females is the real definition of suffering.
What's your message to the Christian girl, Leah Sharibu, one of the Dapchi school girls who is still in captivity?
The government should try their best to bring her back. It's actually a very brave thing to stand for what you believe in. I know a lot of 'brave' people who would cower at the sight of a gun. They would do whatever they are asked to do. Nobody wants to die. She should remain calm and keep trusting in God.
You seem very passionate about your belief in God, did you have a personal encounter with him?
Since some things happened to me, I decided that taking God seriously is the best option because God is great. It's not really a personal encounter. I call my bible – my phone, with which I call my daddy (God). I get answers to my problems from the bible and then pray about it and then everything is fine. Besides, I'm from a good christian background.
Last words?
For those who are younger than I am, stop thinking you're too young to do great things and don't think others are better than you. Don't ever think about giving up. That you're not privileged doesn't mean, you shouldn't try. You could start by volunteering to sing and showcase your talents in school or church, someone out there might pick interest and give the needed support.