By Elizabeth Adegbesan
Despite the steady decline in headline inflation rate, there are indications that the lingering farmers-herders clash is throwing up negative trend in the food inflation numbers.
The National Bureau of Statistics, NBS, reporting for the month of April, 2018, said yesterday that though headline inflation rate dropped for the 15th consecutive month in April, 2018, food inflation ticked up month-on-month (MoM) for the second consecutive month.
The NBS said that  the  Consumer Price Index (CPI) which measures inflation dropped to 12.5 percent year-on-year (YoY) in April 2018 from 13.34 percent recorded in the previous month, and also show a drop to 0.83 percent from 0.84 percent month-on-month (MoM).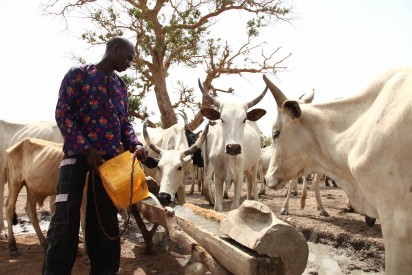 But the inflation data also showed that the Composite Food Index, which measures food inflation rose MoM to 0.91 percent in April from 0.90 percent in March. The March figure represented an up-tick from February figure of 0.85 percent.
However, the MoM rise in food inflation in notable Middle Belt states (Kebbi: 2.00% MoM, Niger: 1.91% MoM and Kogi: 1.30% MoM) was offset by the MoM food deflation recorded in other major food producing states (Kaduna: -0.61% MoM, Kano: -0.25% MoM, Nasarawa: -0.24% MoM).
Imported food inflation, in contrast, declined by 7bps to 1.16% MoM in April 2018.
In March 2018, the federal government launched the National Food Security Council with the aim of developing sustainable solutions to herdsmen crisis, oil spillage in the Niger Delta fishing communities and problems of food smuggling.
Commenting on this development, economists at Cardinal Stone Finance stated: "We expect the newly launched Council to develop initiatives that will help resolve the herdsmen crisis in the Middle Belt in the coming months. However, we envisage that food inflation will edge higher in May 2018, following the commencement of the Islamic fasting season (Ramadan) in the month."
Analysts at Lagos based United Capital stated: "The feedback effect from the herdsmen crisis in Benue State, Taraba State and environ, is disturbing, especially on food inflation. To this end, we highlight the marginal uptick in m/m food inflation (to 0.91 percent in April 2018) for a second consecutive month, after touching 0.85 percent in February 2018."
Commenting similarly, analysts at Financial Derivatives Company (FDC) said: "The confluence of the Ramadan fast and planting season would lead to an accentuation in inflationary pressures. This will have an upside effect on food prices. Nonetheless, the recent interventions of the government towards the agricultural sector should increase output and dampen the adverse effect."
In the same vein, analysts at WSTC Securities Ltd, said, "We believe increased demand for food items associated with the Ramadan season will stoke up prices and we expect this to pose upward pressure on inflation in the coming month."