Sam Onwuemeodo, Chief Press Secretary to Governor Rochas Okorocha, in this piece, says the "denial of Imo APC members' participation in the ward congresses of penultimate Saturday across the state was the price his principal had to pay for his position on tenure elongation". 
The stealing of the sensitive materials meant for the ward congresses of All Progressives Congress, APC, in Imo State on Saturday, May 5, 2018, and thereby denying the teeming members of the party in the state participation, could only be adjudged the price Governor Rochas Okorocha has to pay over his stand on the much orchestrated elongation of tenure for the National Working Committee members of the party, led by Chief John Odigie-Oyegun, which failed.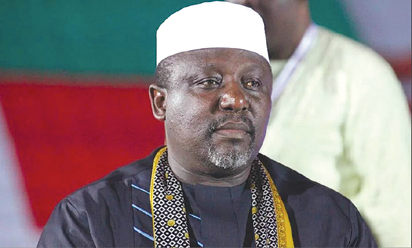 The position of the governor on tenure elongation was in the overall interest of the party and members, and that was the most popular position all those who love the party had taken, but it appears some people are yet to purge themselves of the unnecessary anger that could have arisen from the botched tenure elongation stuff.
In taking the position he took on the elongation of tenure, Governor Okorocha never targeted any person, but was keen in the progress and future of the party which could not have been sacrificed because of the personal interests of some people.
Otherwise, there could not have been any other reason sensitive materials meant for the ward congresses in the state developed wings and fled, and the argument was between the National Organizing Secretary of the party, who is from the state, Chief Osita Izunaso, and the man originally sent as the Chairman of the Congress Committee, Mr. Ini Okori, on who was responsible for the safe keeping of the sensitive materials.
The good thing about the whole story is that it has shown that those making all the noise in Imo APC, using Abuja as their base, are afraid of going to the field for a healthy competition, thereby proving us right in our repeated claim that these people are media creations. They do not go home and have never helped anybody. They are afraid of one man, one vote policy.
Interestingly, members of Imo APC are determined to pursue the case of the stolen sensitive materials to a logical conclusion so that Nigerians would further know the debilitating characters of some of these so-called political leaders.
Today, APC is now a good party. It is no more a Muslim party in Imo because Rochas Okorocha has made it attractive. Rochas is no more Alhaji in Government House or Okoro Hausa. And he is no more working with Muhammadu Buhari to Islamise Igbo land. These elements have no shame.
The truth is that they must not be allowed to reap where they never sowed or be allowed to destroy APC in Imo; they never knew where the story began. And if the gift of Chief Izunaso for Imo APC members is the missing ward congresses materials, posterity will grade him.