Berlin – The ruling body FIFA has met with seven leading clubs including Real Madrid and Manchester United to discuss a 25-billion dollar offer from investors for a revamped Club World Cup and a new global Nations League, the New York Times reported.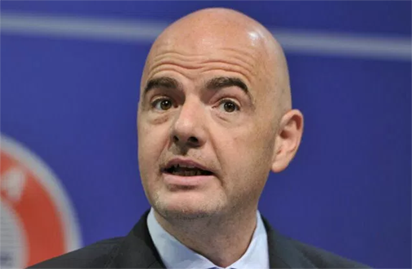 The paper said that officials from Real, United, Manchester City, Barcelona, Bayern Munich and Juventus Turin were invited to FIFA's Swiss headquarters on Wednesday over the controversial issue.
The paper quoted FIFA as saying that "today's meeting allowed us to observe a real interest for a complete reform of the Club World Cup and the development of a new model of competition that would benefit the entire football community around the world."
FIFA president Gianni Infantino revealed the offer from yet to be identified investors to the governing body's council two months ago.
The investors are allegedly ready to dish out a maximum 25 billion euros for the two competitions between 2021 and 2033.
The proposal has been met with stiff resistance from various sides including Europe's UEFA and club organizations.
Critics fear an even more blown up match calendar and rich clubs becoming even richer. (dpa/NAN)