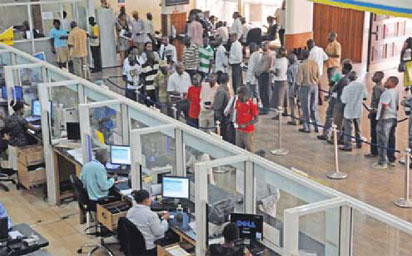 Banking hall
Fidelity Bank Plc said it is partnering international funding agencies and venture capitalists to provide N500 million funding for Small and Medium Enterprises (SMEs) in Nigeria.
Managing Director, Fidelity Bank, Nnamdi Okonkwo, said, in Lagos, that the bank is partnering the investors to organise the 'Fidelity Bank SME Funding Fair' aimed at providing funding for SMEs to strengthen economic growth and development.
Okonkwo said the funding would come in the form of equity participation and debt financing among others, noting that details of the fair would be made public in due course. According to him, the two-day funding fair scheduled for September would provide an avenue for SMEs to meet international funding firms apart from banks.
He said: "Fidelity Bank SMEs Funding Fair is a marketplace where a lot of SMEs that don't have access to finance will meet people that are looking for viable SMEs to support. A lot of international organisations provide finance beyond traditional banks but they find it difficult to reach the SMEs."
He said the bank had carried out many initiatives to ensure the growth and development of the industry. For instance, he said the bank had organised capacity building programme, export promotion trainings for SMEs as well as mentoring to ensure the growth of the sector.
"We have a huge number of SMEs in Nigeria; in any economy actually you cannot ignore the role played by SMEs. In Nigeria and elsewhere, the mortality rate of SMEs is quite high and as a bank we decided to dedicate significant resources and our time to develop and support SMEs," stated.
He asserted that due to its focus on MSMEs, Fidelity Bank has disbursed over N2.2 billion out of the Central Bank of Nigeria's (CBN) N220 billion micro, small and medium size enterprises development fund (MSMEDF), noting the bank has not recorded any default on the MSMEDF loans. "We've got repayment of N400 million; we haven't had default because of the process through which these funds were accessed," Okonkwo stated.