By Isaac Ikpa
Something inspires me infinitely about Lt. Gen. Tukur Yusufu Buratai. This Chief of Army Staff (COAS) and helmsman of the anti-terrorism operations in Nigeria is a leader, naturally endowed with immense talents.  He inspires courage, patriotism and the spirit of togetherness.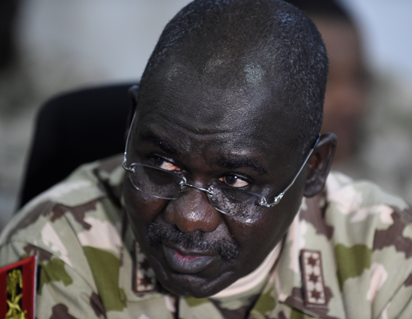 In the trenches, he measures fully as a unique tactician and strategist of world acclaim. On the administrative plank, he is a soldier, a leader with unbeatable initiatives and policies. He thinks, speaks and acts insightfully.
Last week, Gen. Buratai who is winning my heart of recent, was at Gbajimba, a remote  village in Guma LGA  of Benue state. Guma is one of the  areas worse  hit by the herdsmen/farmers skirmishes in  Benue State.  And Nigerian soldiers have been stationed there to extinguish the conflagration.
He paid his troops a solidarity visit in the trenches to encourage them. His message to the troops was clear, that they must remain steadfast and move expeditiously to end the herdsmen/farmers crisis and restore peace.
I saw a boss in a passionate and friendly engagement with his troops in the battle line.  No doubt, he electrified the mood with appeals and extracted an unwritten commitment from soldiers to end the crisis.
But like it has always been my admiration of his persona, Gen. Buratai also uttered a reflective statement. It was somewhat, an advice or appeal over the crisis to the political leadership of Benue state, led by Governor Samuel Ortom.
He was apparently downcast at the needless bloodbath in the state. So, as he counseled his troops and also made a plea to the  Benue State Government (BNSG) to review certain laws to give room for people  to accommodate their brothers and neighbors in the State.
If I discerned him correctly, the Army Chief was referring to the anti-open grazing law in the state, which has ignited the recent fire of killings in the state. I appreciate his concern immensely.
I think, only someone who loves you, would burden himself with an advice to you. Unlike other leaders in Nigeria, known to us,  the Army Chief did not stay in the coziness of his office in Abuja or elsewhere to arrogantly 'spite' the people with an advice. He came into the interior, the epicenter of the conflict to make the plea. He was speaking from the point of view of a leader who has come face to face with the harsh realities of the crisis and knew that peace, rather than war was desirable.
We have the proclivity to easily undermine, disregard and disparage advices of this nature. We are more at home in reading meanings and infusing very partisan interpretations to honest suggestions. And I do know that peace is not an item found in the shop or on the street and so, it cannot be bought.  Peace is earned and in dialogues over issues that have exploded into intractable wars, concessions are made for the restoration of peace. It could be painful, but also, invaluable because it is not what the naira nor dollar can afford. It is just the ability to imbibe the spirit of give and take.
Therefore, the worthy advice coming from a thorough bred military officer, who has seen and fought wars in his life time should deserve our attention.  It should be perceived as a non-partisan intervention, with the overriding motive of a peaceful society.
I decode Gen. Buratai's advice as more sophisticated than the weapons we wield on the field as princely or richer than any other war strategy.  Peace is not earned with guns.
Gen. Buratai is a soldier and not a politician. So, it is pertinent for the political leadership in Benue state to deeply reflect on this advice. Ego, obstinacy and braggadocio are not the solutions in this context,  as Governor Ortom and his acolytes are likely to think or misinterpret. No price is too high to pay for peace.
Therefore, in all fairness, Governor Ortom has pushed Benue people to the precipice with this obnoxious law. And the manner he has tenaciously held and defended this crude law, even in the face of bloodletting, only suggests to me, that the reality of the law, could possibly be his only achievement 
in four years
 leadership of the state.
He flaunts it and prides himself with all manner of offending accolades and sobriquets, claiming the law  is the desire of Benue people.
So, has the Governor suddenly become responsive to Benue people only as it concerns the anti-open grazing law and has he yielded to the appeal of Benue people over the mass sack of workers, he terms, "ghost workers?"
I have sensed Governor Ortom's insistence on the law, in spite of its unworkability, as pursuing an anti-people's agenda and personal interest. Himself and his family are insulated from the heat of the law and so, he does not care.
But many of us have no doubt that the anti-open grazing  law in Benue is an injustice to those whose only occupation is cattle rearing. And it is a trade which Governor Ortom currently practices. That, it is easy for  him to ranch his  cattle as a Governor, with enormous resources at his disposal,  does not mean,  every poor livestock farmer has access to such resources to easily ranch his cattle.
The bloody resistance on all sides  is the signpost of this crude law and I think, any sensible leader ought to have reconsidered the contents of the law and its draconic implementation.  Its naturally expected that every man should resist and oppose any attempt to render his source of livelihood useless.
I think the responsibility of a responsible leadership is to foster unity and harmonious co-existence among people under its jurisdiction. But to posture and work in a style that rather strains this  relationship, as demonstrated by Governor Ortom in the anti-open grazing law is outright spiting of the values of peace and progress.
When governments lay the template for groups to understand the value of peace, a lot of things work out positively and seamlessly. A friend told me about an incident in  Oju LGA of Benue State recently.  He said, the  Fulanis  resident in the area had to alert their hosts  to flee when the external  trouble makers were approaching for an attack.  They acted in favour of their hosts. This synergy is possible elsewhere, if there is cordiality among different groups.
Truth, they say is bitter. But it ultimately salvages an otherwise precarious situation. Let Governor  Ortom be told this bitter truth. And the bitter truth is that he needs to review the anti-open grazing law and implement it only at a time that the state is able to provide a land for all its farming citizens. Its impossible to put the cart before the horse and expect the cart to move.
Governor Ortom and many other leaders in the state  are aware that people like Alhaji Dash, Nalaraba among others, are people  who were born in Benue and  have lived all their lives in the state. Is it morally right for a government to ask them to leave without providing an alternative?
This is exactly what the anti-open grazing law says indirectly. And it is hurtful and painful.  I commend the reasoning of  Gen. Buratai extremely.   He has shown the  people of Benue  tremendous love  and concern since the  beginning of the crisis, necessitating the deployment of soldiers. I also subscribe to this advice.
The Army Chief loves Benue and its people as much as any other part of the country, as evidenced in his automatic enlistment of five Benue indigenes into the Nigerian Army. He is just interested in peace from all angles, like the rest of us.  We all need peace and  Benue must first win the peace for herself. And the time is now!
Ikpa, a human rights activist and public affairs commentator wrote from No. 8 Ikpa Ogbole Rd, G.R.A Otukpo, Benue State.