The European Union on Thursday urged Israel to reconsider its decision to demolish a Palestinian Bedouin village in the occupied West Bank, saying it undermines "prospects for a lasting peace".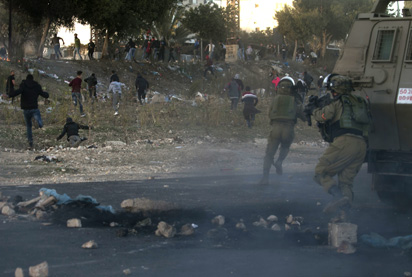 A statement from the EU denounced the intended destruction of the Khan Al-Ahmar village which comes at the same time as the construction of more Israeli settlements on occupied land.
"Building new settlements for Israelis while demolishing Palestinian homes in the same area will only further entrench a one-state reality of unequal rights, perpetual occupation and conflict," the statement said.
The EU referenced a decision made Wednesday to build nearly 2,000 settlement units in the West Bank, while demolishing Khan Al-Ahmar, "the main land reserve of a viable and contiguous Palestinian state".
Israel says the village in Area C, which has 180 inhabitants and is located near several Israeli settlements east of Jerusalem, was built without a permit.
"These developments, alongside a number of other related actions taken in recent months, seriously undermine the viability of a negotiated two-state solution and the prospects for a lasting peace," the statement said.
"In line with our long-standing position on Israel's settlement policy, illegal under international law, and actions taken in that context, such as forced transfers, evictions, demolitions and confiscations of homes, the EU expects the Israeli authorities to reconsider and reverse these decisions."
The EU said it has raised the issue directly with the Israeli authorities.