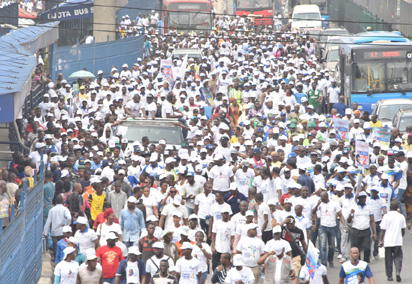 Scores of youths marching on Ikorodu Road on Saturday, March 31, 2018 to endorse Governor Akinwunmi Ambode of Lagos State for a second term.
European Union (EU) on Thursday decried the shortage of Nigerian youths participating in partisan politics.
Mr Ketil Karlsen, Ambassador and Head of the EU Delegation to Nigeria and ECOWAS, said this during the Independent National Electoral Commission (INEC) Continuous Voter Campus Outreach at University of Abuja.
According to Karlsen, for democracy to be representative, it must represent all the demographic population of a country, and the youths are an important case in point.
"There is a shortage of youth's participation in politics in many countries including Nigeria.
"And I wonder why, is it because of disempowerment? Is it because of alienation?
"Is it because of fear of participation? Or because there is a perception that participating will not matter or because they feel they are unworthy, that I am not so sure of.
"But I think we need to ask some questions, that is the reason for this outreach today.
"Another question to be taken into consideration is to ask what it takes for youths participation in politics; we have to look at funding, political parties and campaigns,'' he said.
He urged electoral stakeholders in the country to ensure that Nigeria's politics was not necessarily about the person with biggest pockets should be brought to power.
He advised that politics in Nigeria should be about the person with the biggest ideas coming into power.
He said that Nigerians might wonder why the EU, a foreign organisation, was involving in Nigerian politics.
"It is not because we have a preferred candidate, or because we are married to any political party or because we want to defend a particular ideology.
"It is about simply believing in democracy, because we believe that strengthening democratic institutions is the best way to secure safe, stable and developed societies," he said
Karlsen attributed this to why the EU had been supporting Nigeria's democracy by strengthening its electoral processes and observing its elections since 1999.
He revealed that EU had supported Nigeria with more than 100 million Euros through democratic institutions, the electoral processes, legislatures and all electoral stakeholders.
He said that the union was currently funding youths, women and persons with disabilities programs with 26.5 million Euros.
He urged the youths to start participating in politics by first registering to have their PVCs, participate actively in political parties and go to vote when it was time.
Mr Fabio Bargiacchi, Executive Director, EU Centre for Electoral Support (ECES), said that the youths represented 60 per cent of the nation's entire population.
He urged the youths to use their strength, number and intellect to participate fully in every aspect of Nigeria's electoral process.
"I also wish to encourage all electoral stakeholders to ensure the full engagement of the youths in political activities in Nigeria because youths must be paramount in political leadership.
"Credible young people must be given a place to contest in election into offices and the 35 per cent affirmation for gender could also be considered for the youths to protect the fairness of democracy,'' he said.