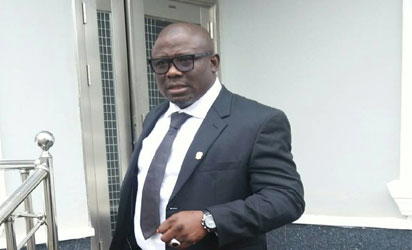 Mr Sheriff Oborevwori
By Festus Ahon
ASABA – SPEAKER of the Delta State House of Assembly, Chief Sheriff Oborevwori, Fruday empowered his constituents with 20 mini buses, four Cars, 10 Tricycles, 20 Hair Dressing Saloon Kits including 20 power Generating sets, 40 Grinding machines, 30 Sewing Machines, 20 Deep Freezers, financial assistance, 500 Wrappers and Head Ties worth millions of naira.

Speaking during the empowerment programme held at the Osubi trade fair centre, Oborevwori said the empowerment programme was in line with the wealth creation policy of the Governor Ifeanyi Okowa's led administration.
He said over the years he has been a strong believer of making people to be self reliant, adding that he enjoys putting permanent smiles on the faces of constituents.
Oborevwori said the beneficiaries drawn from the 10 wards in Okpe Constituency were carefully selected with substantial inputs from the leadership of PDP in the local government area.
He announced that his Scholarship Scheme would kicked off in September this year with an initial sum of N10 million, disclosing that a five member committee made up of seasoned and transparent educationists and headed by Chief Esther Onokpasa has been constituted to supervise the entire process.
While paying glowing tributes to his colleagues for making him the first among equals, he maintained that his emergency as the Speaker of the Delta State House of Assembly was divine.
Flagging off the programme, Governor Ifeanyi Okowa challenged other members of the House to emulate the Speaker, adding that they all have the capacity to empower people.
Okowa urged the beneficiaries to put the items to good use so as to encourage others to follow suit, assuring that the Oha/Orerokpe road would be completed.
Insisting that no project would be abandoned under his watch, the Governor said more projects would be commissioned in few months time.
Okowa said; "I am very pleased with the Speaker, Chief Sheriff Oborevwori. I am glad for seeing Okpe people in large numbers today. Seeing the items the Speaker have put together for this empowerment, I cannot but say thank you. Mr Speaker is somebody who I know very well, he is somebody who is very passionate about his people".
He said the empowerment was in the spirit of the party and thanked the Speaker for the good works he was doing for his people.