Osun 2018: APC lifts campaign ban, holds parlay for governorship aspirants
…as Omo-Agege writes off Monday State congress
By Festus Ahon
ASABA-THE three-man appeal committee of the All Progressives Congress, APC Delta state congress held Monday, has given seven days ultimatum for aggrieved aspirants to file in their petitions.
Briefing newsmen, Chairman of the panel, Mr Matthew Iduoriyekemwen said the exercise would be devoid of preferential treatment.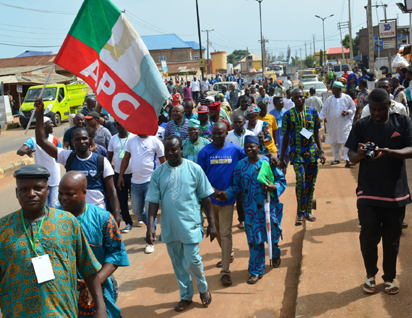 Iduoriyekemwen who former Speaker of the Edo state House of Assembly, expressed displeasure that the party secretariat was under lock and key when the committee members arrived.
Flanked by Secretary of the Committee and former Speaker of the Ekiti state House of Assembly, Mr Omirin Adewale, he said "the administrative secretary of the party in the State was no where to be found when we arrived the state Secretariat."
Saying the findings of the committee would be communicated to the Headquarters of the party for final decision, he said, "it is normal that in any contest, there will dissenting voices, we have till weekend to receive petitions, if any, from whoever that is aggrieved."
Meanwhile, Senator Ovie Omo-Agege, whose faction held its State congress last Saturday, said "people contested for various offices and they won. We are not party to any unity list.
"This is a state Congress and for you to have a state Congress you must have a foundation. We won all the wards in the Wards congresses.
"This is an inter party affair, a family affair. Everybody can't agree at all things at all times. Even in homes, there's disagreement between husband and wives and between siblings.
So, at the end of the day, we will come together and focus on the big fight with the big opponent which is the PDP."