A passenger plane operated by Cuba's state airline with more than 100 people on board crashed shortly after takeoff in Havana on Friday.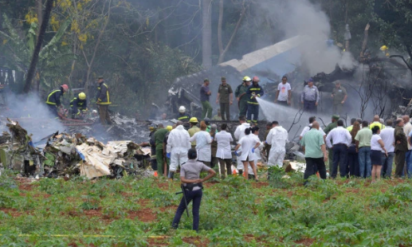 Here is what we know so far:
– The Boeing 737-200 of Cubana de Aviacion was rented from Mexican airline Global Aerolineas Damojh, Cuba's air transport director, Mercedes Vazquez, told state media.
– It crashed at 12:08 pm (1608 GMT) in a field close to Havana's Jose Marti airport shortly after takeoff on a flight to the eastern city of Holguin, 670 kilometers (416 miles) away.
– Cuba's President Miguel Diaz-Canel, who visited the site, said there were nine "foreign" crew members on the plane but it was not immediately clear if they were among the 104 "passengers" mentioned by authorities.
– Three survivors were pulled from the wreckage and are in critical condition in hospital, the state newspaper Granma said.
– The plane was almost completely destroyed in the crash and subsequent fire.
– Dozens of ambulances and fire trucks rushed the site where a police cordon has been set up.
Subscribe for latest Videos