By By Sola Ogundipe & Chioma Obinna
Concerned about Its damaging effects on youths and children, the Group Managing Director/Chief Executive Officer (CEO) of Emzor Pharmaceuticals Industries Limited, Lagos, Dr. Stella Okoli, has expressed worry over the problem of drug abuse in the country.
Speaking on Sunday  during a press conference on the reopening of the company's liquid production line earlier shut by the National Agency for Food and Drug Administration and Control, NAFDAC,  Okoli, who described the management of drug addiction as a collective effort, said tackling the problem of drug abuse required a multi-sectoral approach.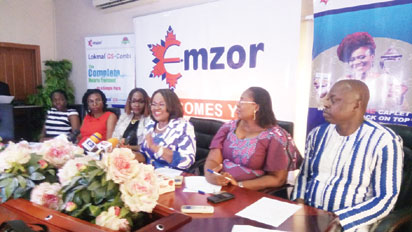 "Emzor will seek to make relevant and impactful contributions to the multi-agency discussions on the way forward that are sure to follow in the days and months ahead.
From the limited depiction of rehabilitation efforts represented in the BBC programme, there is room for much support and improvement in the treatment and rehabilitation of persons affected by addiction.
"As an organisation we will continue to contribute to this vital aspect of managing the problem and securing the National treasure that is our youth."
Expressing delight over the reopening of her factory, Okoli said: "We are happy to announce that after carrying out all necessary due diligence, NAFDAC has now reopened the factory."
NAFDAC had on Saturday lifted the shutdown order on Emzor Pharmaceuticals' factory and two other comapanies; Peace Standard Pharmaceutical Limited and Bioraj Pharmaceutical Limited in Ilorin, Kwara State which were shutdown over codeine syrup crisis.
Okoli who reiterated her company's commitment to affordable medicines in the country, said she was not happy with the increasing cases of drug abuse among the youths while urging all stakeholders in the pharmaceutical industry to unite against the menace.
She said: "As a parent and especially a mother, I am deeply saddened by the problem of drug abuse and its damaging effect on our children and youths. Even more painful is the fact that a genuine therapeutic product, made for the relief of a specific illness, has been turned into a substance of abuse.
"We  commend the Federal Government and the relevant agencies and NAFDAC for their prompt response to what is a serious matter of deep concern to all Nigerians. We also commend the Federal Ministry of Health for their prompt response as all Nigerians called for action towards controlling the situation."
Further she said: "NAFDAC, after their inspections are satisfied that our manufacturing processes conform to all laid down procedure and we are a fully compliant company. Our company has been consistently compliant and we have valid Good Manufacturing Practice (GMP) certifications."
Okoli noted that the loyalty by Nigerians for Emzor's brands in the past 30 years has shown that the company was contributing immensely to the health of the people, adding that they would consistently deliver time-valued quality products and services to the delight of the citizens.
She explained: "At Emzor, we are committed to making unlimited wellness available to all Nigerians, through our range of more than 120 high quality healthcare products, which are all duly approved by NAFDAC. For more than 30 years, Nigerians have trusted our brand name, which stands for quality and reliability.
"This trust we have earned, through unrelenting hard work and commitment to the highest standards and best practices in pharmaceutical manufacturing. The events of these past two weeks have only served to further strengthen that commitment."
The Federal Ministry of Health had recently directed NAFDAC to ban with immediate effect further issuance of permits for the importation of codeine as active pharmaceutical ingredient for cough preparations due to the gross abuse of codeine in the country.
Subscribe for latest Videos