Lagos – Dr Uche Olowu has been sworn as the 20th president of the Chartered Institute of Bankers of Nigeria (CIBN) and Chairman of its Council.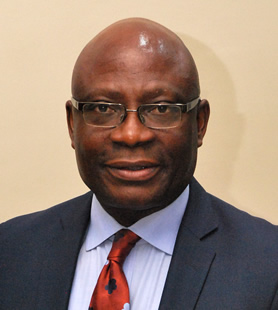 The Olowu took over the leadership of the CIBN on Saturday in Lagos from Prof. Segun Ajibola to oversee affairs of the Institute for the next two years.
Olowu is expected to bring his knowledge to bear on the Institute, having served in various capacities both in the Institute and the banking industry.
Until his investiture, Olowu who has over 30 years' experience in the industry was the First Vice President and Chairman, Board of Fellows and Practice Licenses of the Institute.
He is presently the head of Oil and Gas, Union Bank of Nigeria, Plc.
Olowu holds a Doctor of Philosophy (Ph.D) degree in Organisational Behaviour from Rivers State University of Science & Technology (RUST), Port Harcourt.
Speaking at the investiture, a former president of the Institute, Ajibola, tasked Olowu to uphold the values of the Institute.
"The threats on banks are real, the environment is expanding and all these come with their risks," he said.
He urged his successor to work with the Deposit Money Banks (DMB) to ensure Enterprise Risk Management (ERM) framework is adopted to fight risks in banking.
"This will reduce magnanimous impact of risks when they surfaced," he stressed.
Ajibola also tasked the new helmsman to remain focused, tenacious and to work in partnership with colleagues in the institute.
Joseph Nnanna, Deputy Governor, Economic Policy of the Central Bank of Nigeria (CBN) called on Olowu to emulate good performance of his predecessors.
"The Institute must not relent in bridging the knowledge gap among commercial, microfinance and mortgage banks.
"This is the time banks and the economy are facing cyber insecurity. The CBN will partner with CIBN to ensure that financial transactions are secured," said Nnanna.
Olowu, in his acceptance speech, promised to instill good corporate governance and ethics into the banking system, using the Institute's capacity programmes.
The new CIBN president also promised to practice inclusive management system. (NAN)
OBA/KTO/SA