By Dayo Adesulu
THE joy of pupils and teachers at the Local Government Nursery and Primary School, Jaguna, Itori, Ewekoro in Ogun State knew no bound as Oando Foundation celebrated the Children's Day with them. The school, as one of the adopted schools of the Foundation received several gifts and donation of sports materials to mark the day. The school had in 2017, received a block of six classrooms in place of the poultry pen.
Speaking during the occasion, the Head, Oando Foundation, Mrs Adekola Adegoke said: "This is approximately one year since we started intervening in this school. We are celebrating children's day with them  because this school was in a poultry pen over one year ago. There were two poultry pens on this site. When we went to pay the Ogun State commissioner of education, Mrs. Modupe Mojuota, a visit to intimate her with our Foundation's activities in the state when she assumed duties, she was about three weeks into her tenure at the time and what she showed us was picture of this school saying if we are not going to intervene in any school in Ogun State, we should come to this school because children were in a dying state for various reasons.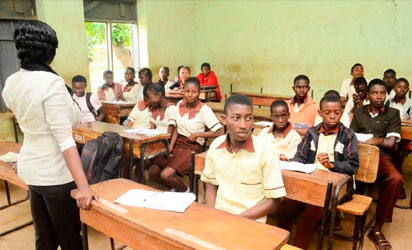 "The children were in a school across the expressway before the expressway was built. When it was built, quite a number of children were dying because they were being hit by trucks and lorries on their way to school. So, the local government took a decision at that time to stop children from crossing the road by situating them in a poultry pen. Teachers of the school said they had killed python in the school before.
"Students learn under the rain and sun and when it rains heavily, classes don't hold. Consequently, teachers that were posted here left, school rate and attendance dropped. It wasn't in our plan earlier to intervene so we had to ask Oando staff and well meaning individuals such as Kate Henshaw who worked with us for free and basically helped us raise funds.
"The school was launched a year ago amid much fanfare and quite a lot of activities had happened. We have had trainings for the school management committee to understand their own roles and responsibilities on how a committee should be involved in school management. We had teachers' training session as well and all of these sessions in partnership with another partner called Educative Child Qatar through which we have been able to get out-of-school children back to school. There is an increase in the school population of over 200 pupils. They were about 540 before our intervention, about 200 pupils have been added within one year."
Meanwhile, the Head Teacher, Mrs Daodu Beatrice Bolanle lauded the kind gesture of the Oando Foundation, describing it as safe our souls intervention.
She said: ''What I met when I came here in 2015 was terrible. I met a poultry pen where the teachers used as classroom for our pupils. During that time, our pupils were 483, but now we are 670.
Any time it was about to rain, I always pray and beg God to suspend the rain because once it starts to rain we won't be able to do anything again even if it starts by 9:00am.