The Abia State government has expressed its continued commitment to the training and welfare of its children.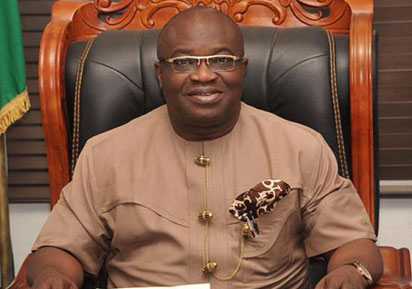 In a Statement signed by the State's Commissioner for Information, Chief John Okiyi Kalu, and released to journalists on Sunday, May 27, 2018, he said children are treasures of the state who must be well catered for, adding that the Abia State government under the leadership of Dr Okezie Ikpeazu sees its responsibility towards the children as a divine mandate because "Children are a heritage of the Lord".
He further stated that although the Okezie Ikpeazu administration has committed enormous resources to the care of children in the State, the governor was ready to do even more for them as they need to be well equipped and their future secured since they are the future of the state and leaders of tomorrow.
Below is the full text of the statement.
Today, May 27, 2018, we join the rest of the world to celebrate our children on the occasion of their Day.
Undoubtedly our Children are a very integral part of our society and they are the leaders of tomorrow.
In Abia, we have continued to work hard to ensure that we not only give our children good quality life but also that we adequately equip them for their roles as future leaders of our State in particular and the world in general.
The current administration has therefore committed enormous resources for the training and well being of our dear children who in their innocence look up to us as parents and leaders for provision, counsel and guidance.
It is in the light of the above that Abia State, under the leadership of Governor Okezie Ikpeazu, commenced the free school feeding program, in partnership with the Federal Government, to feed children from primary 1 – 6 in our primary schools. While the federal government has since taken over that of primary 1 – 3, we have continued with that of primary 4 – 6 to ensure that no Abia child in our public primary school is left behind.
Consequently, the school enrollment rate in Abia has jumped from 110,000 pupils in 2015 to over 304,000 pupils with many parents returning their children to public schools after having previously transferred them to private schools or dropped them off from school.
We are very much aware that there is a direct relationship between well-fed pupils and the capacity and interest to learn, hence, our commitment to the welfare of our children which has also led us to reconstruct over 300 schools in the State to enhance their learning environment and give them better ambience and learning facilities.
The government is also constructing and equipping four new model schools, located across the 3 geopolitical zones of the state, with modern classroom blocks, digital and regular libraries, solar powered electricity and teachers' quarters.
We are therefore not surprised but pleased that our children are doing very well in school as evidenced in their performances in national exams where they have consistently done exceptionally well.
For three consecutive years, our children have maintained first position in West African School Certificate Examination.
It will be recalled that at inauguration, Governor Ikpeazu stated that he is "irrevocably committed to giving our children the best education to prepare them to compete globally". That statement has guided the administration to pursue education as one of the major pillars and an enabler of the other four development pillars of the Government: Agriculture, Trade and Commerce, Industry and Oil/Gas.
To ensure that our teachers are adequately motivated and equipped for the task of producing the best students in the world, we have not only rewarded the best teachers within our school system but have also embarked on a retraining program for them that is anchored by Australian education service providers. This training has further been boosted by the setting up of our teachers continuous education office at Umuahia to continue the training from which over 800 teachers have already benefitted.
Our education services monitoring capacity has also been improved through the donation of motorcycles to education monitors that enabled them to regularly visit schools located in the hinterlands.
To further enhance the health of our children, we have acquired a property in Umuahia for a specialist hospital for mother and child. Children from 0-5 years and their mother will have state-of-the-art specialist care at the facility located along Bende Road in Umuahia. Our interest also covers the children that are still in their mothers' womb and waiting to be born.
We hope that the Mother and Child Specialist hospital shall significantly drive down both maternal and infant mortality rates in the State by the time it fully takes off.
Additionally, the Governor has directed that all medical facilities in the state inform his office of incidents of loss of Mother and/or child during childbirth to enable the government evolve systems to prevent future occurrence.
Indeed we are very much aware and convinced that our children are treasures of the state that must be well cared for and we shall continue to give them a place of priority in our planning, policies and actions as a State. We see that as not just a responsibility but also as a divine mission because we are aware that "Children are a heritage of the Lord…" (Psalm 127:3).
As we celebrate with our children  today, we pray that the Almighty God will continue to bless them in all their endeavors. We join all parents and NdiAbia to wish all our children a Happy Children's Day and assure them that they remain very dear to our heart.
We shall not fail them, God helping us.