By OUR REPORTERS
Makurdi—As the Catholic Church yesterday buried the two priests and 17 parishioners killed by herdsmen at St. Ignatius Quasi Parish at Mbalom, Benue State, Catholic faithful stormed the streets nationwide to protest their killing.
This is as the Vice President, Professor Yemi Osinbajo, said at the burial ceremony yesterday that the Federal Government is saddened and outraged by the spate of killings going on in the country, saying everything is being done to put an end to it.
From Lagos to Abuja and other cities across the country, Catholic faithful challenged the Federal Government to do everything possible to bring the killers to book.
But speaking at the Se Sugh U Maria Pilgrimage Centre, Ayati Ikpayongo, Gwer East Local Government area of Benue State, Osinbajo in an oration at the burial, said:  "It was early in the morning of April the 21st that Rev. Fr. Joseph Gor and Rev. Fr. Felix Tyolaha were in the very safest place, the early morning mass at St. Ignatius Quasi Parish at Mbalom which was violated by those who never feared God or man. Within minutes of gunshots, 19 men and women lay dead in the premises of the house of God.  They killed the flesh but they could not touch the spirit, that belongs to God.
"Yes, they caused grief to the family, friends and the entire country but what treasure is there or what good is there in causing pain or anguish? What manner of man is he that wakes up in the morning determined to kill innocent men and women? Surely such a one has lost his peace. He is to be condemned and cursed but perhaps, deserved our pity even more.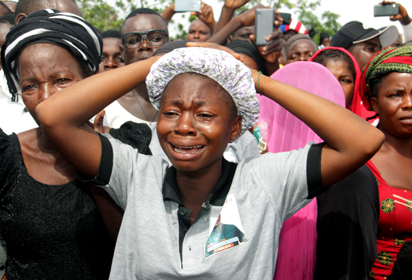 "But what do we owe the dead today? What do we owe these 19 who died in Benue and very many others who have been killed here? We cannot bring them back but we can provide succour and comfort for those  they left behind.
"We can ensure justice for them by apprehending and punishing the assailants. We must rebuild the many places that have been damaged and heal the wounds that have been caused. We must rebuild and revamp our security system of law enforcement to ensure that all that live and work in this land are safe, most importantly; we must and will stop these senseless killings. Sometimes evil seems to be winning but as night follows day, this evil will be defeated and good will triumph."
Arrest Miyeti Allah leaders — Ortom
Earlier, Governor Samuel Ortom  of the state, reiterated his call for the arrest of the leadership of Miyetti Allah Kautal Hore for allegedly masterminding the attacks that had claimed 492 lives since the beginning of the year.
Governor Ortom said, "We remember not only one moment of tragedy, we are burying 19 lives of great purpose and promise. This is the third mass burial we have the misfortune to organize in the last five months. On January 11, 2018, we had a mass funeral and burial of 73 of our patriots who were slaughtered in 2018 new year attack by armed herdsmen in Guma and Logo local government areas of Benue State.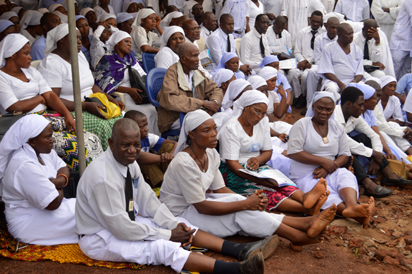 "We never expected another of such thing but we were wrong. On March 15, 2018 we held another mass burial for 26 victims of herdsmen attack at Omusu in Okpokwu local government area of our state. From January 1 till date, Benue State is being attacked by herdsmen nearly every day, not only in Guma and Logo and also in Ukum, Agatu, Okpokwu, Kwande, Gwer West, Gwer East, even Makurdi local government areas. At least, 18 of our 23 local government areas have been under attack and siege.
"The arrest and prosecution of Miyetti Allah Kautal Hore and Miyetti Allah Cattle Herders Association will be the beginning of elementary practice of justice for the 492 people who so far have been killed in Benue State by these herdsmen since the beginning of this year."
In his homily, John Cardinal Onaiyekan, Archbishop of Abuja Archdiocese, rebuked the Federal Government for not doing enough to protect the lives and properties of Nigerians.
He said: "To keep us safe is the primary responsibility of government. There can be no excuse for failure to perform in this regard. If the present state of affairs is the best that this government can give us, it should be clear that the best is not good enough. We need the radical change for the better. It is imperative. "
On his part, the President of Catholic Bishops' Conference of Nigeria, Most Rev. Augustine Obiora Akubeze said, "The Federal Government must stop the killings of our children and women. We are all tearful because these killings have continued. We are sad and our hearts are filled with sadness. These killings calls for deep reflection."
Similarly, Bishop of Makurdi Catholic Diocese, Most Revd. Wilfred Anagbe accused the Federal Government of shielding the perpetrators of killings in the state, saying "All we demand is that those vomiting the crime should be arrested and brought to justice while those behind it should also be prosecuted. It all seems the federal government is protecting them."
The burial was attended by over 200,000 Catholics and Christian faithful including Ministers, Senators and House of Representatives members.
Bauchi
In Bauchi State, Catholic faithful described the killing as evil as they  joined others across the country to protested  by going round the Bauchi Catholic Cathedral and prayed for the repose of the souls of the deceased.
Vicar-General Pastoral, Rev. Fr. Bitrus Lange, said the prayers offered and the protest was in solidarity with the Makurdi Diocese which was burying their two priests and 17 worshipers.
Plateau
In Jos, the Christian Association of Nigeria, CAN, Jos North Chapter, held a solidarity prayer session to mourn  the deceased.
CAN members who dressed in black, gathered at the Rwang Pam Township Stadium, prayed not only for peace in the land but the release of Leah Sharibu still in captivity.
Speaking, North CAN Chairman, Rev. Canon Nenman Gowon called on "Christians wherever they are to continue to offer words of prayer as God still answers prayers."
Kaduna State
In Kaduna State, faithful took to the streets of kaduna in a peaceful procession which began at St. Augustine's Catholic Church, Mahuta, Kaduna.  Protestants and Muslims also joined in solidarity.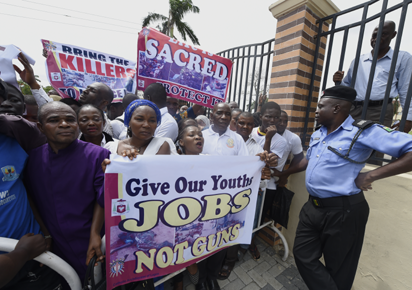 Speaking shortly after the rally, Vicar-General, Administration, Kaduna Archdiocese, Reverend Father Bulus Karis Lukas lamented that in the society, human life is under direct attack from abortion to herdsmen's gruesome murder of innocent people.
Edo State
In Benin City, Catholic faithful in the Archdiocese of Benin defied the early morning rain to  gather in their thousands as early as 8:am at the St. Paul's Catholic Church along Airport Road, Benin before marching through other major streets in the state capital.
They displayed placards with various inscriptions that read, "Stop rendering people homeless, cattle grazing is private business", "Catholic Church in Nigeria rejects Federal Government of Nigeria's poor handling of security in the country," "Please, do not turn Nigeria into an animal kingdom".
Delta State
In Asaba, Delta State, Catholic clergy and laity of Issele-Uku Diocese led by the Bishop, Most Rev. (Dr.) Michael Odogwu Elue had a rosary procession around the St. Paul's Cathedral, Issele-Uku where a holy mass was held in memory of the slain persons.
A message signed by the Director of Communications in the Diocese, Rev. Fr. Charles Uganwa and read by the Chancellor, Rev. Fr. John Aduba, expressed anger at the incessant killings of Nigerians by herdsmen.
Akwa Ibom State
In Akwa Ibom State, Catholic faithful of the Uyo Diocese, marched from the Pastoral Centre along Brook Street to  Government House, where they presented their complaints to Governor Udom Emmanuel.
Some of them displayed  placards with various inscriptions such as: "No to religious terrorism"; "Live and let live"; "No weapon fashioned against Christians shall prosper"; "Say no to terrorism in places of worship", Christian lives matter"; "No to ethnic cleansing"; "Human life is sacred".
Rivers State
In Rivers State, Most Rev Dr. Camilus Archibong Etukudoh, Bishop of Port Harcourt Diocese, who led the protest, said: "We are doing this in solidarity with Christians who are killed daily by these terrorists. We condemn the unwarranted killings and destruction of property by these terrorists. The security apparatus in the country as it is said is not effective. Government is meant to protect lives and property because we are armless and defenceless."
Bayelsa State
In  Yenagoa, Bayelsa State, Catholic faithful led by the Catholic Bishop of Bomadi, Most Reverend Hyacinth Egbebo, marched through the busy Melford Okilo Road before stopping over at Government House Gate, where they handed over their protest letter to state government officials led by the Secretary to the State Government, SSG, Mr Kemela Okara. Some of the inscriptions on the placards read: "Stop killing of Christians," Christians are not cow," "Federal Government must act on the killings now," "Christians have the right to life," "What happened to the freedom of worship"?
Solidarity mass, procession in Enugu, Nsukka, Aba, Umuahia
Catholic faithful across the South-East, also  took to the streets in protest.
Despite a heavy downpour  yesterday in Nsukka, in Enugu State, over 10,000 Catholic faithful of Nsukka Diocese marched round the town.
The protesters sang heartrending songs and   displayed placards which read: Life is sacred; Our Leaders Save Us; Christians Lives Matter; Enough is Enough; Leaders Sit-up or Resign among others.
Solidarity mass in Enugu
A special Solidarity Mass and peaceful solemn procession were held at the Holy Ghost Catholic Cathedral, Ogui Enugu with thousands of Catholic faithful and clergy for over an hour. There was also a solemn procession within the vast Holy Ghost Catholic Cathedral compound for about two hours.
Speaking at the end of the procession, Bishop Callistus Onaga, said the mass and solemn procession was in solidarity with Christians that had died due to activities of militia groups in the country.
Umuahia joins protest against killer herdsmen
In Umuahia, Abia State, Catholic faithful held a solemn and peaceful procession to protest the killings. Led by Bishop Lucius Ogorji, the protesters after a prayer session at the Mater Dei Cathedral, Umuahia, moved from Azikiwe Road through Aba Road down and ended  at St. Finbarr's Church Parish on Bende Road, where speeches and benediction were held.
They displayed placards with inscriptions such as "enough is enough, stop this senseless killings, God is a giver of life, Government should rise to its primary responsibility of protecting lives and property", among others.
Protests in Aba
Similar protest was also held in Aba, the economic nerve centre of the state, where protesters denounced the killings and implored the government to arrest the situation.
Oyo State
In Ibadan, Oyo State,  the Catholic Archdiocese of Ibadan appealed to the Federal Government to live up to its primary responsibility of providing security and safety for every Nigerian.
The protesters started from SS Peter & Paul Major Seminary, Bodija, Ibadan, and proceeded to the Oyo State Governor's Office, Agodi, Ibadan.
The protesters, who marched with songs and prayers, came with placards bearing inscriptions including "All Nigerian Should be Safe in their country" "Catholic say Enough of Innocent Killing and "Nigeria Arise for Justice."
Ogun State
Catholic faithful in Ogun State staged a peaceful protest along the  major streets in Abeokuta.
Bishop of the Catholic Diocese of Abeokuta, Olukayode Odetoyinbo led the protest after a mass which ended around 11: 30am.
The peaceful walk started from the premises   of the church, and moved from there to Ibara Roundabout afterwhich they returned to the church premises.