By Ohereome Nnanna
PRESIDENT Muhammadu Buhari gave hints of how his supporters will enter the upcoming electioneering fray when he met his Buhari support groups in the Presidential Villa on Tuesday last week: it's going to be a gale of lies all the way.
I am not referring to his allegation of $16 dollars spent on power projects "without power". Figures have been bandied down the years – from $3billion to $6 billion to $10 billion to $16 billion. This reminds us of how former Central Bank of Nigeria Governor (now the Emir of Kano) Mallam Sanusi Lamido Sanusi, had in February 2014 bandied figures as the amount "diverted" by the Nigerian National Petroleum Corporation, NNPC, instead of being remitted to the Federation Account. He started with $20 billion, brought it down to $10 billion and readjusted it to $12 billion. That is Nigeria for you. Others use figures to inform and educate. We use ours to confuse and promote falsehood.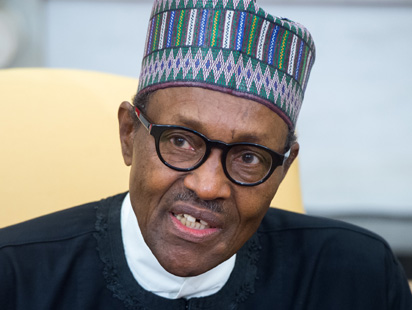 Thank God that former President Olusegun Obasanjo, whom Buhari was tacitly clearing the way for a barrage of attacks from his paid supporters, has challenged Buhari to probe him. Will Buhari take up the challenge? How I wish he would! Let us settle this matter once and for all. I am sure that Obasanjo will have one or two things to say about Buhari which had been kept from the public due to elite conspiracy. Not only that, I wish Buhari and Obasanjo would consent to a public debate over this and other anti-corruption issues since both of them anchored the regimes on strong anti-graft agendas.
During this debate, I would like to hear what Obasanjo has to say about another of Buhari's questionable truths which hereby I quote. Said he to his supporters: "Between 1999 and 2014, Nigeria was getting 2.1 million barrels (of crude oil) per day at an average cost of $100 per barrel".
Well, they say a Nigerian president does not lie. All I can say is that Buhari has not told the whole truth. The facts do not bear him out. In 1999, Brent crude oil was sold between $16.56 and $24.28. It climbed marginally to between $27.39 and $38.92 in 2000. The steady rise continued to an average of $61.51 in 2009. Brent crude did not reach the $100 per barrel mark until 2011 ($111.27) and sold above the $100 per barrel mark for only four years (2011 and early 2014) before it slumped sharply to $52.35 in 2015.
In terms of volume of crude oil productions per day, capacity is being taken for actual output by the President. The Niger Delta militancy and the Warri wars shook the oil industry between 1998 and August 2009 when the late President Umaru Yar' Adua granted amnesty to the militants in exchange for the surrendering of arms. It was only then that oil production peaked above 2 million barrels per day until the Avengers resumed hostilities when Buhari invaded the Nigeria Delta in 2015.
The most laughable thing President Buhari said on that day he met his support groups was that the late General Sani Abacha loved Nigeria more than any other person who had ruled this country! He justified this by pointing to the job done by the Petroleum Trust Fund, PTF, which he (Buhari) was chosen to carry out. Abacha is the only former ruler of Nigeria whose looting of the nation's treasury is beyond question. Others, including Buhari himself, are merely objects of rumours and speculation. At least, none of their loots has been identified anywhere, let alone being recovered.
None of them has been put on trial, let alone being found guilty. Abacha's loot is only being "celebrated" because he died and the man he jailed for coup, Obasanjo, went out with vengeance to locate his loots. Hardly had a year passed since Obasanjo was elected as Nigeria's president without Abacha's loot being identified and returned to our treasury (never mind what happens to it after that). If Abacha had not jailed Obasanjo, I doubt he would be the certified kleptocrat that he is today. Obasanjo boasted he recovered N287 billion from Abacha's loot. If Buhari (whom Abacha rehabilitated with the juicy PTF job in 1996) had succeeded Abacha in power, we would obviously never hear of the Abacha loot. It would have been covered up. I have proof.
On 9th June 2008, at the 10th year anniversary of the Abacha's death in Kano, Buhari made the outrageous claim that Abacha "never stole". Perhaps, he did not know that one day, as an elected President he would be condemned to be a recipient of several tranches of Abacha's loot from the Swiss and US governments. For instance, on 27th April 2016, Buhari tweeted @NGR President as follows: "Nigeria is awaiting from Swiss Govt. $320 million, identified as illegally taken from Nigeria under Abacha" (It was actually $322.5 million). Note: he did not call it Abacha loot. He did not want to call a spade a spade. But a statement from the Office of the Minister of Finance confirming the actual receipt of the loot on 10th April 2018 went closer to it: "for the avoidance of doubt, there is no controversy concerning the recovery of the Abacha monies from the Swiss government".
Right now, Buhari's government is in the middle of efforts to recover another $550 million Abacha loot from the United States Government. Yet, he described Abacha to his paid agents as the only ex-ruler who "loved Nigeria" because of PTF. If your servant cooks very well but steals your money how can such a person be said to "love" you? For Buhari's information, a thief never loves the person he steals from. He loves only himself.
In any case, how many of the wonderful roads and infrastructure that Buhari built in PTF under Abacha can we still point at? I can still point at the Third Mainland Bridge and Abuja infrastructure Babangida built in the early 1990s with the "stolen" Gulf War oil windfall. I can still point at the intra-city trunk roads and mighty flyover bridges that Gen. Yakubu Gowon built in Lagos with the proceeds of the first oil boom of the early 1970s. Yet, Gowon never stole a penny though he was wrongly accused when he was overthrown in 1975. I can still point at the Federal highways across all the geopolitical zones President Shehu Shagari built within four years (1979 to 1983). Shagari and his Deputy, Alex Ekwueme, never stole a penny from Nigeria, yet Buhari jailed them for "corruption" which he could not prove! I can still remember how Obasanjo zapped Nigeria's $32 billion Paris Club debt in exchange for $12 billion upfront payment in 2006.
Abacha merely hiked fuel price and used the differential to intervene in the nation's broken infrastructure; a commendable effort. But he stole us blind! And that is the man Buhari keeps deodorising any time he picks up his microphone. This falls in line with a character trait that has become unmistakable with the President. If you are for him you are a good person, and you will be protected by his government. But if you walk away from him you will become a bad person and you will be hounded by his government. If you are opposed to him you are a "looter". But if you come over to him you become a born-again, protected "saint". You can even boldly join in calling others looters!
"Come over to me all ye who have looted, and ye shall be sanctified. Woe unto ye who abandoneth me for ye shall become looters!"