By Johnbosco Agbakwuru
ABUJA – THE meeting between the striking joint health workers union and the Federal Government last night ended in a deadlock.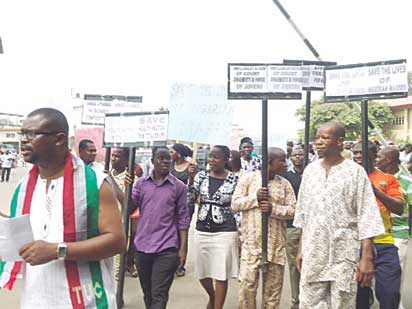 The reconciliation meeting which was held at the instance of the Minister of Labour and Employment, Senator Chris Ngige, and Prof Issac Adewole, Minister of Health was aimed at ending the nationwide strike, which started 30 days ago.
The meeting started at about 7.10pm and ended at about 8.43pm, but was gathered that the negotiation ended abruptly as the health workers stormed out the Minister's conference room.
The aggrieved health workers led by JOHESU chairman, Biobelemoye Josiah, were agitated over the alleged uncomplementary remarks made by some members of the Federal Government's team.
The JOHESU team who declined to mention names after the closed door session, alleged that one of the members of the Federal Government's team who allegedly wanted to buy one of the government's hospitals will be frustrated.
"That hospital that he wants to sell to himself will fail…
"This was the same thing they did to frustrate President Jonathan's administration and the same thing they are doing to destroy this government," they alleged.
According to the agitated JOHESU team, the proposal to restructure the salary scale in fabour of the Medical doctors, was unacceptable.
Recall that JOHESU had on the 17th April, 2018 directed all its members to withdraw of health services by the striking health workers has paralyzed activities in all the federal health institutions.
The five health sector unions affiliated to JOHESU are: Medical and Health Workers Unions of Nigeria (MHWUN), National Association of Nigeria Nurses and Midwives (NANNM), Senior Staff Association of Universities, Teaching Hospitals, Research Institutes and Associated institutions (SSAUTHRIAM), Nigeria Union of Allied Health Professionals (NUAHP) and Non Academic Staff Union of Educational and Associated Institutes (NASU).
According to one of the Ministry's officials who spoke under condition of anonymity, the tripartite negotiation meeting held on Tuesday evening lasted till 12am on Wednesday morning.
Meanwhile, the negotiation meeting is expected to continue by 1pm on Thursday, 17th May, 2018.