By Udeme Akpan
Shell Nigeria Exploration and Production Company, SNEPCo, has produced a total of 763 million barrels of oil from the Bonga field in the past 12 years.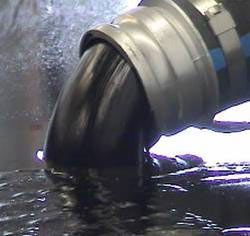 The 763 million barrels are worth $58.7 billion at the current price of $77 per barrel in the international market.
Managing Director of the company, Mr. Bayo Ojulari, disclosed at the presentation of the company's report that the 763 million barrels were produced between 2005 and 2017, adding that the company also expanded the field with further drilling of wells in Bonga Phases 2 and 3 and through a subsea tie-back that unlocked the nearby Bonga North West field in August 2014.
Reviewing the operations of the company to journalists in Lagos, he said: "The success story at Bonga is not only that it is Nigeria's first oil and gas production project in more than 1,000 metres of water, or that it increased Nigeria's oil production capacity by 10 percent in 2005.
"The main point is that Bonga is a Nigerian venture delivered by Nigerians using global expertise and processes offered by Shell that have launched Nigeria into the league of notable deep -water players."