Lokoja – Bishop Martins Olorunmolu of the Catholic Diocese of Lokoja on Tuesday led his faithful in a procession to protest against the recent killings of two priests and 17 worshipers in Benue State.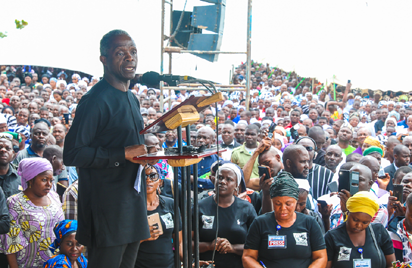 The bishop said in Lokoja that there was too much bloodshed in the country.
He urged the Federal Government to do something about the killings, saying that Nigerians were no longer safe in their own country.
He noted that there was no reason why Christians could no longer worship their God freely for fear of attacks and killings.
He described such a development as a serious threat to the peaceful coexistence of the nation.
Olorunmolu called on politicians to avoid playing politics with human lives saying that there was no point killing one another.
The bishop also condemned the high rate of poverty and sufferings among the citizens of the state due to non payment of their salaries.
He appealed to Gov. Yahaya Bello of Kogi to allow his administration wear a human face.
Faithful defied the early morning downpour to gather at the Bishop's Court, behind Government House, Lokoja as early as 8.00a.m.
They held a peaceful protest reciting their rosaries and praying to God to end insecurity in the country through the major streets in the state capital .(NAN)