Inaugurates 10 new First Class Chiefs
By Peter Duru
Makurdi—Governor Samuel Ortom Monday cautioned against any form of reprisal killings in the state over the lingering herdsmen crisis warning that his administration would  deal with anyone caught engaging in the act.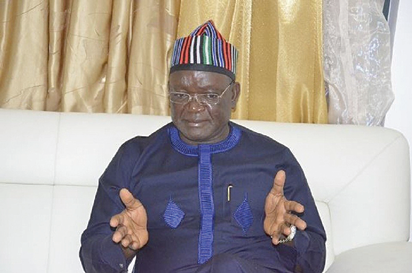 He maintained that the herdsmen crisis in the state was not a religious or ethnic war hence should not be capitalized on to attack innocent persons who had no hand in the killings taking place in the rural communities.
The governor, who sounded the warning yesterday in Makurdi while inaugurating 10 newly selected First Class Chiefs in the state said, "we are not in a religious or ethnic war with anybody.
"So it would be wrong for anyone to hold on to the herdsmen crisis to attack innocent persons in our cities who have no hand in the crisis but go about their businesses peacefully. So I am warning that we will not take lightly any form of reprisal attacks in the state because anyone caught in the act will be decisively dealt with."
The governor, who commended President Muhamnadu Buhari for sending additional troops to the state to stem the recurrent killings by herdsmen also lauded the people of the state for their resilience despite the challenges posed by the herdsmen crisis.
Speaking on the inauguration of the new First Class Chiefs, Governor Ortom said, "the installation of 10 newly selected First Class Chiefs is very important because it is a watershed in our efforts to give the Traditional Institution its pride of place in Benue State.
Advising the new Chiefs, Ortom said ,"as Paramount rulers of your various domains, you are expected to respect and comply with the laws of the land and conduct yourselves at all times in a manner that can promote public confidence and the integrity and impartiality of the Traditional Institution. You should also avoid social relationships that are improper or give rise to an appearance of impropriety that cast doubt on the Institution's ability to decide cases impartially or bring disrespect to the Traditional Institution.
"It is our expectation that the institution will always guide government at local and state levels in taking decisions."
Responding on behalf of the new Chiefs, the Tor Kwande, Ambrose Iyortyer promised that the traditional institution would continue to partner the state government to find lasting solutions to the challenges confronting the state.
The newly inaugurated First Class Chiefs, include Abu Shuluwa Tor Sankera, Julius Adaga Tor Gwer, Mose Anagende Tor Lobi, David Ajoko Tor Jemgbagh, Ambrose Iyortyer Tor Kwande, Clement Uganden Tor Jerchira, Emmanuel Okochi Och'Otukpo/Ohimini, Obande Obeya Och'Enone, Och'Apa/Agatu Baba Adangla and Adirahu Ny'Igede Oga Ero.