Mrs Titilayo Atiku, the wife of the former Vice President Atiku Abubakar, has advocated for proper education among Nigerian youths to solve the perennial problem of youth restiveness and drug abuse.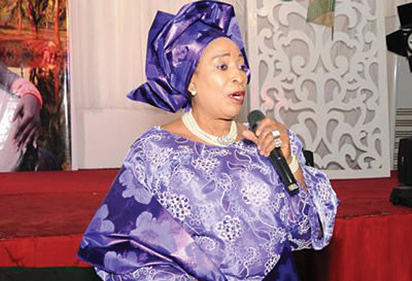 Atiku said this during the FCT academic award organised by Mobilisation of Schools and Students for Excellence (MOSSSEX) project ceremony on Wednesday.
She said that education remained the in-thing in modern era, and urged youths to embrace it to be able to harness their potential.
Atiku called on government and other well-meaning Nigerians and organisations to create awareness about the harmful effect of drugs abuse on the youths.
"Education is the in-thing now, the youths should try to go to school and be interacting with one another.
"Nigerian youths are vibrant; they have potential, so we should create awareness on the dangers of drug abuse.
''We should let them know that if they indulge in drug abuse they will not be leaders tomorrow," she said.
Atiku, who has been in the forefront of championing the fight against women trafficking and child labour in the past 19 years, commended the MOSSAEX project for catching them young.
Dr Hassan Suleiman, the FCT UBEB Deputy Director in charge of Public Private Partnership commended MOSSAEX project, noting that the competition stimulated academic excellence in the students and unlocked their hidden potential.
"The competition stimulate academic excellence among our students, this will give them the opportunity to explore their potential which are actually hidden," he said
He disclosed that the ongoing school feeding in the country would soon kick off in the federal capital territory.
He noted that school feeding stimulates and encourages enrollment in public schools, adding that most parents could hardly feed their children so they opportunity of having a meal makes pump to enroll.
Suleiman stated that all schools would benefit after the process was completed.
Mr Chidi Chukwuma, the Coordinator MOSSAEX project said the project was aimed at taking education of a child beyond what the teachers could offer.
He commended the students for outstanding performances during the debate competition which motivated the inauguration of Petitkelvin Leadership Club to train and groom the youngest leaders.
"We decided to inaugurate petitkelvin leadership club to produce the youngest leader in the next 13 years," she said.
Kelvin noted that the move was to take cover by educating the children on what leadership entailed and prepare them for leadership roles.
That 60 schools across the FCT participated in the Mathematics and English debate competition. (NAN)